Okafor Ofiebor/Port Harcourt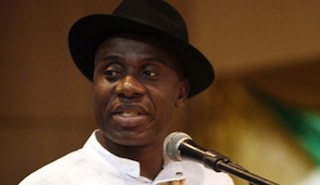 The issue of who becomes the governorship candidate of the two prominent political parties in Rivers state is still an item as the elders and political leaders of Ogoni and Riverine Ijaw Ethnic nationalities in Rivers State have resolved to support any political party that field an Ogoni or Kalabari in the forthcoming 2015 governorship election.
The elders and political leaders of the two ethnic nationalities came out with this resolution in a joint meeting held in Port Harcourt.
The statement, which was read by Mr Diamond Tobin West, a Kalabari political opinion leader asked the people of Rivers state to render their support to the two ethnic groups.
In his remark, a four-time Federal Minister Alabo Graham Douglas said for equity, fairness and justice, it was time for those in the riverine and the Ogoni people be given the opportunity to occupy governorship seat in the state.
Douglas said that it would amount to injustice for a particular ethnic group and area of the state to reign and rule the for more than 16 years, while the Ogonis and Kalabaris have not produced the Governor of the state.

Load more