Cyriacus Izuekwe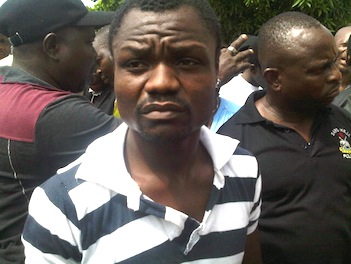 A Ghanaian citizen resident in Nigeria, Israel Nana has confessed that his mission to Nigeria was to dispose people of their valuable properties and become rich before going back to his country.
The 30-year old Nana said he nearly accomplished his mission and was preparing to return to Ghana when he was arrested.
Nana said he came to Nigeria five years ago and had been busy stealing and making money but nemesis however caught up with him.
He said he was a well known criminal in his home town in Kumasi, Ghana and because of his renowned notorious activities, he decided to relocate to Nigeria to continue his criminal activities.
On how he came to Nigeria, he said his friend who lives in Nigeria helped him secure passage into the country, adding that, immediately he got into Nigeria, he began stealing and later graduated to car snatching.
He said since he came to Nigeria, he had lived in four cities in four states namely, Abuja, Lagos, Edo and Rivers.
He said he settled for car snatching because "you don't need sophisticated weapon such as guns, pistol bullets etc to carry out the operation and it was easy to dispose the cars because a buyer was already ready to pay the money".
On the choice of cars he specialize in stealing, he said the demand are Toyota Cars especially Camry but Honda, Nissan Jeeps and others were also in high demand.
He said he was arrested in Rivers State after one Alhaji who buys stolen cars from him was arrested in Abuja a fortnight ago.
He said he was still surprised on what was happening to him because he never thought he would be arrested.
Nana is a member of the five-man gang car syndicate arrested by the Lagos State Anti-Robbery Squad for car snatching in Nigeria.
They were paraded by the Lagos State Commissioner of police, Mr Kayode Aderanti at Ikeja, Lagos. Some of the vehicles stolen were also recovered across cities in Nigeria.

Load more