Kazeem Ugbodaga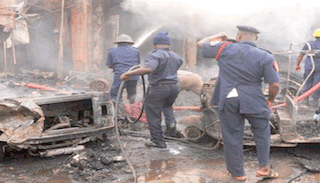 A midnight fire has burnt three children of the same parents to death at Jakande Estate, Mile 2 area of Lagos, southwest Nigeria.
The tragedy struck on Tuesday night while the children were sleeping after leaving a candle burning while asleep.
P.M.NEWS gathered that the fire destroyed the topmost floor of Block 56, Jakande Estate. The two flats of three bedrooms each were razed by the inferno.
The burnt children are Ayomide Ilori, 10; Temiloluwa, 7, and eight month old Durosimi.
Officials of the Lagos State Fire Service arrived the area and battled to put out the fire, but not after it had consumed two flats and the three children.
Director, Lagos State Fire Service, Rasak Fadipe told P.M.NEWS that the parents of the children locked them at home and went to church.
According to him, the children lit a candle and went to sleep, which resulted in the tragedy. He wondered why the parent of the children could leave them at home without the supervision of an adult and go to church.
Fadipe advised parents never to lock their children at home unattended to while not at home in order to avert unforeseen disaster.
He said any parent that wanted to go out should hand the children over to an elderly person rather than abandoning them at home without care.
"I always advise people not to leave a lit candle and go to bed. We cannot tell them not to buy and use candle because people produce them to sell, but they should not leave it and go to bed.
"In this era of portable rechargeable lamp that are cheap, people could purchase them for use in their houses," he advised, adding that Lagosians must be fire conscious, especially as the dry season has set in.
"We mobilise the Isolo fire station where we got 10,000 litres of water and also mobilised the Sari-Iganmu Fire Station and got another 10,000 litres of water to put out the fire in the building," he said.
Fadipe lamented that people in the area damaged fire fighting equipment of the agency as they were telling the fire servicemen to hand over the equipment to them, on the excuse that people were still trapped in the building, wondering whether the people wanted to take over the fighting of fire from the fire servicemen trained to do so.

Load more