Abiodun Onafuye/Abeokuta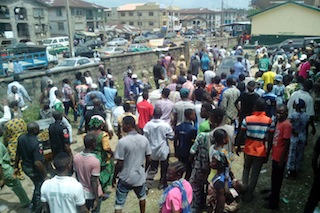 The Continuous Voters Registration (CVR) exercise that commenced today in Ogun state has recorded a lot of irregularities as residents are complaining of series of anomalies observed in the project.
The Independent National Electoral Commission (INEC) fixed Wednesday (today) till next week Monday for fresh registration for those who are yet to register or who have complaints about the Permanent Voters Card (PVC) exercise conducted from November 7 to 10.
Just like the PVC exercise, our correspondent gathered that various local government council in the state was marred by series of crisis as prospective voters lamented some irregularities from the conduct of the exercise.
In some areas, visited by our correspondent, it was gathered that some areas INEC's sole machine was inadequate to register people who became restless after queuing for long hours.
In Abeokuta metropolis, a visit to Revd. Kuti Memorial School, Isabo and Nawair-Ud-Deen Primary school along Nawair ud deen road, showed that people were stranded because there were inadequate facilities to capture them.
Speaking with our correspondent, a resident, who simply identified herself as Tomiwa revealed that many people have returned home due to the long queue, which according to her, "cannot reduce because of the population of people who did not find their names in the PVC exercise and those who have turned 18 since 2011 are plenty in her area.
"We have been here since morning and as I am speaking to you (11:25 a.m.), INEC officials have just registered 31 people and we have 787 people on the queue. The problem is that they have only one machine and that alone cannot serve all these people. If two or three additional machines are not used to service us, this exercise will be a failure," she lamented.
The issue was different at Imo Methodist Primary School, Oke Yeke, Abeokuta, Ward 12, which comprises of about 25 units, the exercise nearly turned into a free for all fight but for the timely intervention of the police.
Our correspondent, who was at the scene reported that members of both the ruling party, APC and the main opposition party in the state, PDP engaged themselves in a hot argument, which resulted in the INEC officials to hurriedly parking their materials and fleeing the venue.
Speaking with our correspondent, one of the Policemen deployed to douse the tension told PM News that they received a distress call and they drove down to the scene. He said the environment was charged and they had to quell the factions and protect INEC officials and their materials.
"When we got here after receiving a distress call, we tried to persuade the people to be orderly and assured them that all of them will be attended to. Rather than listen to our advice, they people turned the venue to a political ground and threw caution into the wind. Efforts to mediate between the supporters of the two political parties, APC and PDP proved abortive as some of the boys started making calls to their members and within a twinkle of an eye, the premise was jam packed. One man, who identified himself as the Secretary, Abeokuta South local government also came to speak to the officials," the policeman who pleaded anonymity said.
He added that: "As he was speaking with them, those on the ground were shouting. It was at this time that the man and others asked INEC officials to park their things and move away. We had to take them in our vehicle to ensure their safety. This place is a very sensitive area and what I think is the problem is that, the registration centres is not enough, they should create more for them, at least four or five," the policeman suggested.
At exactly 12:35 p.m., amid tight security from the police, the INEC officials were drove out in the vehicle of the Police marked 'Ibara Police Division'.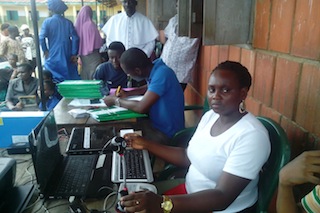 In Ogijo area of Sagamu local government area of the state, our correspondent gathered that residents over 500,000 may be disenfranchised from voting as only two machines were available for all the residents of Ogijo and its neighbouring towns.
Our sources revealed that the two machines were located inside St. John Primary School, beside Ogijo Police station and it is to serve people from villages like Ilara, Idimogun, Oshodi-Oke, Olatori, Iyana School
and others.
Narrating their experiences to our correspondent, Muqaddam Olatunde Keshiro disclosed that majority of the residents in the area may not be allowed to vote as they were not given the voters card.
"We were surprised when we got to the polling unit this morning and the INEC officials told us that, we will have to go back to our former places of abode to collect our cards from there and tell them to transfer our names to any villages here in Ogijo, noting that, "that is the only way we can participate in the coming elections.
"Most of us living in these areas are newcomers who have come from different parts of the country to settle down in our own God given apartments. We have some people who came in from the Northern part of the country, due to the Boko Haram crisis. Are they going to travel back to the North to collect their cards? They told us point blank that they are not going to register our names and this is contradictory to what the Resident Electoral Commissioner has been saying. Can someone help us to find out from them what is happening and why all these
inadequacies?," he quizzed.
He added that: "This a plot to disenfranchise us from performing our civic responsibilities but we too will not keep quiet, we will speak out and call on well meaning Nigerians and the governor of Ogun state, Ibikunle Amosun to come to our aid. We are residents of Ogun state now and we must cast our votes, come 2015," he argued.
When our correspondent contacted the governor's camp to react to the matter, one of the cabinet members of the government disclosed that the information is just reaching them, noting that, they were going to embark on a monitoring exercise.
He assured that all the anomalies noted and observed will be tabled at the appropriate quarters, promising that they will be addressed adequately.
As at the time of filling this report, many of the polling centers within the Abeokuta metropolis were overcrowded with people but the facilities were not enough to accommodate the large turn out.

Load more