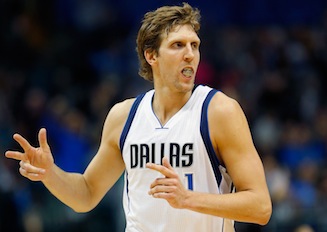 Dallas Mavericks star Dirk Nowitzki became the highest-scoring international-born player in NBA history Tuesday, passing Hakeem Olajuwon for ninth place overall on the all-time list.
Germany's Nowitzki finished with 23 points as he helped the Mavericks erase a 24-point deficit en route to a 106-98 win over the Sacramento Kings.
Nowitzki came into Tuesday's contest needing 17 points to pass Olajuwon, who finished his brilliant career with 26,946 points. Olajuwon was born in Lagos, Nigeria.
Nowitzki entered the history books with under nine minutes remaining in the fourth quarter when he nailed one of his textbook high-arching jump shots. His three pointer gave the Mavs a 95-84 lead.
Chandler Parsons tallied 19 points and Monta Ellis delivered all of his 14 points in the second half to spark the comeback for Dallas, which has won 21 straight at home over the Kings.
Rudy Gay scored 26 points, Ramon Sessions had 18 in place of Darren Collison and DeMarcus Cousins finished with 16 points and 11 rebounds in a second straight loss. Collison did not play due to shoulder stiffness.

Load more