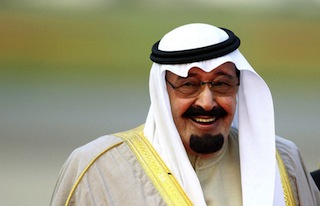 Saudi Arabia on Wednesday transferred the deputy governor of the kingdom's Eastern Province, in the aftermath of an unprecedented attack against minority Shiites in the region.
A royal decree "decided to relieve Emir Jalwi bin Abdulaziz bin Musaid al-Saud" from his post and transfer him to Najran region bordering Yemen, the Saudi Press Agency reported without further explanation.
Seven Shiites, including children, were gunned down in the eastern town of Al-Dalwa last week during the commemoration of Ashura, one of the Shiite faith's holiest occasions.
Political and religious leaders in the Sunni-dominated kingdom condemned the incident, which the cabinet said "threatened security and stability of citizens by terrorists."
Two members of the security forces have been killed in a gunbattle with suspects and more than 30 people detained in a dragnet since the November 3 attack, according to local media.
Although Sunni extremists attacked Westerners and government targets in the kingdom between 2003 and 2006, it was the first major militant strike against Shiites in Saudi Arabia.
Following the killings, a royal decree dismissed Culture and Information Minister Abdulaziz Khoja.
The reasons for his firing remain unclear but it followed Shiite calls for action against hate speech in the media.
Since 2011, protests and sporadic attacks on security forces have occurred in Shiite areas of Eastern Province, home to most of the minority community which complains of marginalisation.
A gunman shot and wounded two policemen on patrol in the eastern community of Qatif on Tuesday, local daily Arab News reported, citing provincial police.

Load more