Damilare Okunola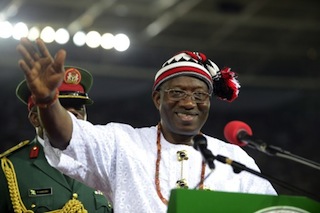 The Lagos state Chapter of the National Conscience Party, NCP, has denied reports that it has endorsed President Goodluck Jonathan and Jimi Agbaje both of the People's Democratic Party, PDP, for the 2015 Presidential and governorship elections respectively.
NCP in a press statement said a report that the party alongside seven others had endorsed Jonathan and Agbaje was quite embarrassing as there was never a time it met with any group to endorse either of the aspirants.
"We wish to also state that National Conscience Party, NCP, will field candidates for the post of President and Governor of Lagos State and we are already working to hold the party's primaries between 21 and 30 November, 2014.
"We also wish to state that whoever may have participated in this unholy discussion was on a frolic of his own. The National Conscience Party will not go into 'UNHOLY ALLIANCE' with any political party that is anti-people.
"However, the party is still investigating to know the perpetrator of this act. Therefore, the general public and NCP members should discountenance the purported endorsement," NCP said in the statement signed by the acting state Chairman, Comrade R.F.K. Ibuowo and other party chieftains.

Load more