Abiodun Onafuye/Abeokuta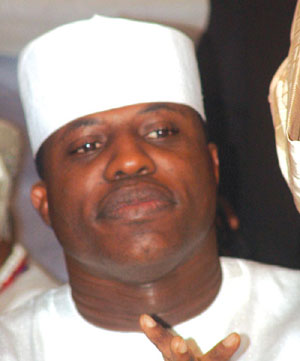 What could be described as a popularity test played itself out Thursday evening at Kuto roundabout, Abeokuta, the capital of Ogun state when former Speaker of the Federal House of Representatives, Rt. Hon. Dimeji Bankole was sighted throwing money out from his vehicle to Okada riders and some commuters standing at the park.
Our correspondent who arrived the scene of the action few minutes after the former number four citizens had left saw some of the Okada riders and commuters discussing the matter.
An eyewitness account reported that Bankole, whose posters for the position of governor on the platform of the Peoples Democratic Party, PDP have flooded most towns in the state was coming from Oke Mosan area in a convoy that was driving towards the GTB-Oke Ilewo road. His convoy was however stuck in a light gridlock around Kuto roundabout where he seized the opportunity to feel the pulse of the people.
"We were standing by the park around Kuto roundabout waiting for cab, then we saw a convoy coming from NNPC and heading towards our direction. It was the slight gridlock that occurred around that area that made us know that it was the former Speaker. We heard the blaring of siren but never thought he was the one because since he returned from Abuja, about three and half years ago, he has been going around quietly until lately.
"He was in a black Jeep, wearing a traditional attire of white guinea with white cap to match. When his car got to where Okada riders were, he wound down his glasses and when some of the boys sighted him, they started praising him and urging him to give them money. Some of the Okada riders ran in front of his convoy and instead of giving those boys their own share from the national cake, he decided to cause chaos around the place by throwing the money out. This immediately sparked a survival of the fittest contest, as people began scrambling for it.
Another eyewitness said: "He is throwing money all around because of the elections. Was he not the one that was once winding up all his vehicles? Padlocking all his gates with soldiers and policemen guarding it? Now that he needs the people again, he is deceiving them with N100 notes. Has he forgotten that Ogun is not Ekiti, where they believe in stomach structure," the eyewitness said.
Most of the Okada riders who spoke with our correspondent revealed that they are collecting what rightly belongs to them but was in his custody, "Can you imagine the embarrassment? Some of our boys at the park who know him just saw him when he was trapped in the go-slow they went to him to salute him, maybe he was going to drop something for them."
A woman, who was caught in the web of the action expressed disappointment at the former Speaker's action, noting that, he did that deliberately to gauge how much the people like him.
According to the woman, who preferred to be identified as Mama Tubosun, she said, "I nearly collapsed following what just happened now. We were here waiting for a cab, when suddenly, I saw these Okada boys running and shouting, I thought something is happening. While we were trying to run inside the Metro bus park for safety, somebody just said, he has thrown it out. I nearly collapsed because I thought it was bomb they were referring to until I saw the boys pouncing on themselves scrambling for money.
Dimeji Bankole alongside other nine aspirants are jostling for the governorship ticket of the Peoples Democratic Party, PDP in Ogun state and political observers are of the opinion that if he is given the ticket, the party may pull a surprise in the governorship election in February 2015.
Other PDP governorship aspirants are: Abayomi Majekodunmi, Jelili Kayode Amusan, Isiaq Abiodun Akinlade, Gboyega
Nasir Isiaka, Engr. Anthony Ojesina, Prince Yanju Lipede, Omooba Segun Adewale, Rafiu Ogunleye and Remilekun Bakare, who defected from APC, Osoba camp to PDP recently.

Load more