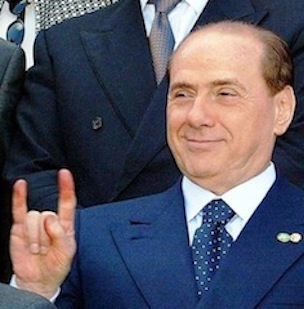 Italy's chronic political instability could soon be consigned to history after a deal between Prime Minister Matteo Renzi and Silvio Berlusconi was hailed Thursday as a breakthrough for radical electoral reform.
Under an accord between the youthful centre-left premier and his disgraced right-wing predecessor a new electoral law which will guarantee strong governments with clear parliamentary majorities could be approved by Christmas.
"Italy needs an institutional system that guarantees the ability to govern (and) a clear winner on election night," the statement said.
Renzi's ability to maintain cooperation with Berlusconi is seen as key to his ability to deliver on a wide-ranging programme of promised reforms which spans the economy and the legal system as well as the electoral system and constitution.
And the sign that the two men have overcome recent differences could also influence the timing of Italy's next election and the identity of the country's next head of state.
Former media tycoon Berlusconi is currently doing community service in an old people's home as a result of his conviction for tax fraud.
At 78 — twice Renzi's age — Berlusconi is a waning force in national politics and his Forza Italia party is flagging in the polls.
But it retains sufficient strength in parliament to seriously disrupt Renzi's legislative programme.
The prime minister is already bracing for a showdown with labour unions over his Jobs Act, legislation which will make it easier to hire and fire workers.
The government says change in this area is vital to allow companies to grow and create jobs. Unconvinced, the country's biggest labour union has called a general strike and nationwide demonstrations for December 5.
– Secret pact –
After a meeting late Wednesday, Renzi and Berlusconi issued a joint statement reiterating their commitment to work together under the "Nazareno Pact", an agreement they reached in January which takes its name from the street which is home to the headquarters of Renzi's Democratic Party (PD).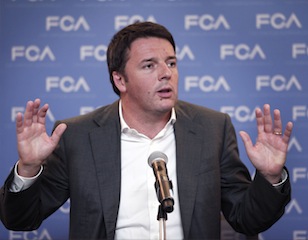 "Italy needs an institutional system that guarantees the ability to govern (and) a clear winner on election night…," the statement said.
Much detail still needs to be ironed out but essentially the new electoral law proposed by Renzi will hand the party which tops national polls a working parliamentary majority.
In parallel with this, the former mayor of Florence wants to make the task of governing less complicated by stripping the Senate of most of its power to block and amend legislation under a bi-cameral system that frequently leads to legislative gridlock.
In their joint statement, the two leaders said they had agreed that the electoral law should be approved by the Senate before Christmas.
They also said that the current parliament, elected in 2013, should serve its full five-year term. Pundits had been tipping Renzi to go to the polls early and believe he may still take that option despite his promises to Berlusconi.
Roberto D'Alimonte, a professor at Rome's Luiss university, said he was confident the electoral law would get through parliament and said Berlusconi's business interests would have influenced his willingness to cooperate.
"He cannot do without a good relationship with the government. He is like the (Fiat-owning family) the Agnellis – he cannot afford the luxury of a dispute with the government," the professor told AFP.
Under the draft new electoral system, a party which wins a general election with more than 40 percent of the popular vote will automatically benefit from a "winner's premium" of extra seats to give it a parliamentary majority.
In the event of no party achieving this, there will be a run-off vote between the two biggest parties.
Other elements include new thresholds for parliamentary representation, which D'Alimonte predicted would be set at four percent of the popular vote.
This change is designed to reduce the number of small parties and encourage an evolution towards a two-party system on British or American lines.
The largely secret Nazareno pact has infuriated Renzi and Berlusconi's political rivals because noone knows exactly what it covers.
There has been intense speculation that it includes an accord on the name of a successor to Giorgio Napolitano, the 89-year-old president who is expected to step down from his role as president early next year.

Load more