Hunters in Mubi, Adamawa State, northeast Nigeria, are said to be mobilising to retake the town captured by Boko Haram on Monday.
This followed the successful routing of the terrorists in Maiha Local Government Area of the state on Wednesday.
Reports say the courageous hunters killed at least 75 Boko Haram members during Wednesday's battle to reclaim the local government headquarters from the insurgents.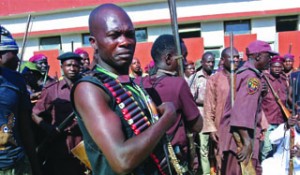 Boko Haram insurgents captured Maiha on Monday during which a Lt. Colonel and several soldiers were reportedly ambushed and killed.
A resident of Maiha who escaped to Yola, told reporters that the local  hunters, who mostly arm themselves with bows and arrows, decided to mobilise themselves to fight the insurgents following the alleged killing of the soldiers on Monday.
Sources said thousands of  local hunters across the state are also planning to join forces with Nigerian troops to recapture some towns under the control of the terrorists.
According to Mr. P. P. Elisha, spokesman of Adamawa State Governor, Bala James Ngilari, the state government is supporting the hunters by donating three Toyota Hilux trucks to the state hunters association to enable them join the fight against the terrorists.

Load more