Health workers on the frontline of west Africa's Ebola crisis pleaded with G20 leaders on Thursday for more resources, describing horrific working conditions as they attempt to contain the deadly outbreak.
Liberian nurse Laurene Wisseh said health workers had been reduced to using plastic bags in an attempt to cover themselves due to a lack of rubber gloves and protective suits.
Ambulance officer Gorden Kamara said there were just 15 ambulances for a population of 1.5 million and one doctor per 14,000 people in worst-hit Liberia, compared to about 40 per 14,000 in Britain.
"We have nothing," he told a nursing conference in Brisbane via Skype.
"The shortage of protective equipment at healthcare facilities has led to a high infection and death rate among healthcare workers, which has led to an abandonment of hospitals and clinics."
His appeal came as leaders from the Group of 20 most powerful economies began arriving in Brisbane, with Ebola expected to be among the topics discussed.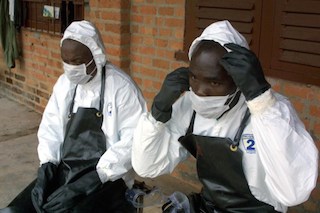 According to a statement obtained Wednesday by AFP in the United States, Washington will use the summit to push the International Monetary Fund to cancel US$100 million in debt owed by Sierra Leone, Liberia and Guinea.
US Treasury Secretary Jack Lew said this would free up resources to help fight the worst Ebola outbreak on record, which has killed some 5,000 people.
Liberia has been hit hardest, with more than 2,830 confirmed deaths, and the epidemic is also raging in neighbouring Sierra Leone and Guinea.
– 'A global tragedy'-
The World Bank has estimated the financial impact of Ebola in the region could reach US$32.6 billion by the end of 2015 if it continues to spread, arguing the virus is not only a health issue but also a financial threat.
The Financial Times reported Thursday that the international lender will use the G20 to push for the creation of a multi-billion dollar emergency fund to deal with future pandemics to avoid a repeat of the slow, piecemeal response to the crisis.
Aid agency Oxfam said almost half of G20 nations had failed to offer adequate funding to combat the outbreak, accusing the grouping of failing in its core function.
"If the G20 is to fulfil its ambition to protect the global economy, it cannot allow the economy of an entire region to be destabilised and must look at meeting the immediate needs of the emergency response and of a long-term recovery," it said.
Nigerian nurses association president Abdrafiu Adeniji, who travelled to Australia for the summit, said Ebola was not just an African problem.
"It is true that west Africa has been infected but it must be seen as a global tragedy," he said.
"Nobody knows where it might arrive tomorrow. It takes just one person with Ebola to get into a country and then the country will be on fire."
Wisseh said there was a desperate lack of resources in the centre of the epidemic.
"We need the world's help now to stop the spread of Ebola," she said.
"At the moment, we are sharing equipment, sometimes reusing disposable gloves and in the worst-case scenario using plastic bags to protect against Ebola."
Ebola, one of the deadliest viruses known to man, is spread only through direct contact with the bodily fluids of an infected person.
Kamara described how one of his colleagues contracted the virus because he did not have a protective suit when treating an infant and the child vomited on him when he was being carried to an ambulance.
The ambulance officer recovered, but Kamara said health workers were one of the hardest hit groups in Liberia and hundreds had died.

Load more