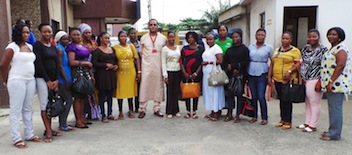 No fewer than 40 females were on Wednesday inducted as bus captain trainees of the LAGBUS Female Captains Training Scheme.
The Managing Director of LAGBUS, Mr Babatunde Disu, said this during an induction ceremony for would-be drivers in Lagos.
NAN reports that 80 female trainees were shortlisted from 300 applicants that indicated interest to participate in the training.
NAN reports that the training exercise would cover between four to five months. "We recognise the fact that driving in Lagos is not easy but you are ground-breakers in that we are starting you from the scratch without driving experience.
"The idea of doing this is to get more women involved in driving the buses. When women drive, they are more careful; they are more committed in their working; and the way the passengers react is different because a woman is involved.
"Being a woman generally, they tend to take better care of people. So you would see a better service operator and that basically, is what we want to achieve," Disu said.
He said that though the company already had three qualified women adding, it was the first time the company would embark on a drivers' training scheme for female bus captains.
"We would train them to the best of our ability but what we would want to see at the end of it is a more caring service provider that LAGBUS would be.
"We would teach you how to drive; from the van and then get on to the bus for you to qualify to be able to drive a bus in Lagos," he said.
Disu expressed the management's confidence in the ability of the female trainees, adding that successful trainees would be granted employment.
Earlier, Mr Adebola Adesanya, Human Resource Manager of LAGBUS, said the scheme was aimed at injecting well-trained and professional captains into the operations.
A trainee, Mrs Caroline Ekeledo, told NAN that she was excited to have been shortlisted for the scheme.
"I became motivated when I saw females driving the Lagos State waste vans and since then I had wanted to be in their shoes.
"I have no experience in driving and I feel I will make it. So, I am glad I now have the opportunity after my husband had enrolled me," Ekeledo said.
Another trainee, Mrs Modupe Mohammed, who studied Accountancy in a polytechnic, said being married with children would not be a distraction.
"I am married with four kids and I have stopped having children. My last child is in S.S.1 and is in a boarding school.
"So, nothing will stop me from going forward in this career. I encourage other women to come into it. It's a lovely idea to give women an opportunity to build a career in the transport industry," Mohammed said.

Load more