Abiodun Onafuye/ Abeokuta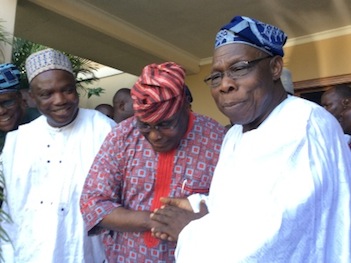 Former Nigerian Vice President Atiku Abubakar has declared that the defection of the former governor of Ogun State, Chief Olusegun Osoba to the Social Democratic Party, SDP was unfortunate and regrettable.
Atiku, who is also the Chairman, Reconciliation Committee for the APC in the Southwest, stated that the reconciliation is still on course.
"It is regrettable, unfortunate, but I believe it is a situation that is still reconcilable. This is a situation that has been going on for some time and we have not given up," Atiku assured.
He also said that the buying of Presidential form for the Speaker of the Federal House of Representatives, Aminu Tambuwal, is a welcome development, saying, it makes the game more interesting.
"On the nomination form for Tambuwal, the more the merrier; APC is a very democratic party, so the more the merrier. Truly, I am the Chairman of the South West Reconciliation Committee, but we also had to set up an Elder sub-committee of that committee to try and see if there will be internal reconciliation before the bigger committee looks at the reconciliation process.
Atiku spoke on Friday in Abeokuta, the Ogun State capital. He came to meet his former boss, Chief Olusegun Obasanjo, the State governor, Ibikunle Amosun and the State Executive members of the All Progressives Congress in the State
The All Progressive Congress Presidential aspirant, who arrived the Presidential Hilltop resident of the former President Olusegun Obasanjo at exactly 2:50pm with his entourage, went straight into a closed door meeting with his former boss.
"First and foremost, I came to pay my respect to my former boss, President Olusegun Obasanjo and we discussed the state of the nation generally and our relationship is extremely cordial," Atiku remarked after the meeting.
The meeting which lasted for 35mins was between the two leaders while members of his entourage sat in the waiting room.
Immediately after the meeting, Obasanjo and Atiku came out holding hands to meet with the entourage of Atiku. In a banter with former Education Minister, Professor Babalola Aborisade, who is also the Director-General, Atiku Campaign Organisation, Obasanjo asked him to prostrate for him.
"Prostrate for me, I am your boss and aside that, I am your in-law," Obasanjo said jokingly.
Aborisade, without wasting much time prostrated flatly for the man, many people are calling and addressed as "Ebora Owu" and Baba ask him to stand up. They all later went inside to eat and wine together, with all the guests of Baba, which included his younger brother.

Load more