Funsho Arogundade
Akin Shuga, the leader of Shuga Band fame has been described by many in the society and entertainment circle as king of gigs. The son of  a late justice brought that appellation to bear during the recent shoot video for his new single, Married Today.
The video shoot atmosphere could best be described as wedding-like, as popular actress, Bayray Mcnwizu, got married to fast rising actor, Femi Jacobs in a mock wedding while A-list comedian, Tee-A was the compere for the night.
Shuga, speaking on the expansive wedding setting for the video, said he needs to drive home the theme of the song.
"Despite the very danceable beat and feel of the song, Married Today is still a wedding song. A song that talks about marriage from the starting-point of wedding so it will not be doing the song any form of justice if the video isn't about proper wedding," he said.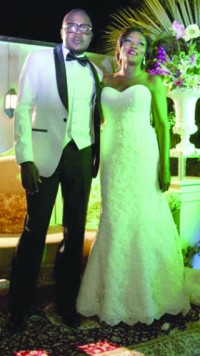 He added that a lot of energy, goodwill and resources were expended to create the wedding atmosphere and the icing on the cake was getting two proper actors who can act to play the role of groom and bride.
"A real wedding couldn't have been better than this and the most fitting song for any wedding right now is Married Today," Shuga added.
MC Abbey, Princess and a host of other celebrities also star in the video which was shot by Filmboys, the directors behind Waje's No Be You.
Maria Tofowomo, vice president, 800 Records, the record label under which Shuga is signed, said the video is a colourful one.
She said the director is creative and has proven himself with Waje's video.  "He came up with creative ideas and they meet with our own ambitious desire for Shuga's video so what we have is synergy of sort," Tofowomo said.
Married Today is a new classic-like feel good wedding song that has gained huge popularity within a short time. It was produced by K-Solo.

Load more