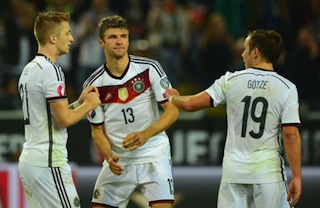 World champions Germany posted a 4-0 win over minnows Gibraltar on Friday, but will still finish 2014 third in their Euro 2016 qualifying group after another unconvincing display.
Thomas Mueller scored twice while Mario Goetze also netted before a Gibraltar own-goal completed the rout, but the anticipated German goal bonanza failed to materialise.
"We would have liked a better result, but it's not easy when a team stands as deep as Gibraltar did," admitted Goetze.
"We could have created more goals and played more convincingly, which we have to put our hands up to."
Poland stay top of Group D by virtue of their 4-0 win in Georgia earlier while Ireland hold onto second on goal difference from the Germans, who also have seven points, despite their 1-0 defeat to Scotland.
Germany missed the chance to finish their World Cup-winning year second in the table and their unconvincing display left head coach Joachim Loew unimpressed.
"I am anything but happy, the team didn't measure up the way we had wished," said Loew.
"We want to play like world champions, so from that perspective four goals isn't enough."
Gibraltar provided little resistence, but the below-par win did little to boost Germany's confidence after last month's shock 2-0 away defeat to Poland before conceding a last-minute equaliser in their 1-1 draw at home to the Irish.
Gibraltar, who only became a full UEFA member last year and are not yet recognised by FIFA, were never going to seriously test the world champions after losing 7-0 to both Poland and Ireland in previous qualifiers.
"It's a great result, I'm very, very proud. A 4-0 result against the world champions is as much as you can wish for," beamed Gibraltar coach Allen Bula.
"We showed that even though we are the smallest nation in UEFA we can still hold our heads high."
In a bid to kick-start their campaign, Loew named an unusual 3-5-2 formation and packed his midfield with stars from his World Cup winning squad.
Bayern Munich's Mueller and Borussia Moenchengladbach's Max Kruse were named as his strikers with the pair having netted 11 goals between them in as many Bundesliga matches this season.
Real Madrid's Sami Khedira made his first appearance since the 7-1 drubbing of Brazil in the World Cup semi-final after injury, while Lukas Podolski was the oldest player — at the age of 29.
With Preston North End defender Scott Wisemann as the only full-time professional in the starting line-up, Gibraltar are still looking for their first goal of the campaign having now leaked 21 in their four qualifying games.
The Germans went ahead with 12 minutes gone when Gibraltar goalkeeper Jamie Robba failed to deal with Shkodran Mustafi's cross, which hit the near post, rebounded off defender David Artell and Mueller fired home.
The second came with nearly half an hour gone as Goetze spread play to the left wing where Podolski drove in a low ball, which was turned in by Mueller again.
Goetze grabbed his own when the World Cup winner took a pass from Toni Kroos outside the penalty area and after exchanging passes with Kruse, stroked his shot past Robba on 38 minutes.
Gibraltar's Leo Walker tested Germany goalkeeper Manuel Neuer with a cross-shot from 34 metres just before the break at Nuremberg's Grundig Stadium as it finished 3-0 at half-time.
Podolski created Germany's fourth goal — their only of the second 45 minutes — when he fired in a cross which Gibraltar defender Yogan Santos tapped into his own net on 67 minutes.

Load more