Abiodun Onafuye/Abeokuta
The chairman and editor-in-chief of City People magazine, Mr. Seye Kehinde has declared that he is not dabbling into politics now or later.
He opined that it is time for those who have achieved in their chosen professions to come out and hijack politics from those he described as 'opportunists'.
He made the disclosure in Odogbolu during the formal declaration of entertainment guru and a co-owner of Kennis Music, OAdedayo Adeneye popularly referred to as D1.
D1 is contesting for the House of Assembly seat in Odogbolu on the platform of the All Progressive Congress (APC).
In an interview with PM News, Kehinde said his mission in Odogbolu is to lend support to his friend and colleague in the entertainment industry.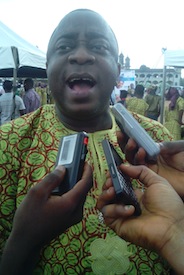 "I'm here in Odogbolu to support Dayo Adeneye, who is aspiring for the House of Assembly and I believe that this is the support he should get from all of us. He is a man that began a business and built it to great height, in other words, he is a don. He has become a very big brand, so, running for the Assembly seat will not be difficult for him. He already has a very clear picture of what he is going to do there and he has the pedigree to build on and that is what we need in politics.
"He is someone I know very well and we are also in the same entertainment industry. He has done well in the industry and has touched many lives. I admire his courage, I admire his success story. These are the kind of people we need in politics not those people who do not have pedigree, who has nothing to do than politics.
"I am not into politics but will always support those who want to go into it. Seeing most of the entertainers running for political offices is a commendable thing, a very welcome development. I think it is time all those who have carved a niche for themselves in various professions go into politics and hijack it from those who are into it and have nothing to offer the people.
"They should allow those that have built their names, have pedigree and have good track records to run politics," City People boss stated.
He however appealed to the leadership of the All Progressive Congress, APC to support his friend, Dayo Adeneye, whom he described as a good ambassador for not only Ijebu people but the state in general.
According to him, "APC should support D1, he is a very good ambassador for Odogbolu, Ijebu and Ogun state people. I think there is a need for all of us to embrace him and make sure that he wins," he pleaded.

Load more