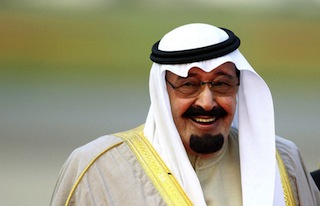 Media watchdog Reporters Without Borders (RSF) urged Saudi authorities Friday to drop charges against dissidents jailed in recent months over their Internet activity.
The latest sentence was handed down to prominent human rights activist, Mikhlif al-Shammari, who was jailed for two years by a special criminal court on November 3 and given 200 lashes.
Shammari, a 59-year-old Sunni Muslim known for his attempts to improve Sunni-Shiite relations in the kingdom, has faced several trials on various charges linked to his activism, according to rights groups.
"He was convicted and sentenced just two weeks after being summoned to the General Intelligence Directorate in Al-Khobar and ordered to close his Twitter account (@mikhlif) within 48 hours in connection with another complaint," RSF said.
The media watchdog also condemned the arrest on October 28 of women's rights campaigner Suad al-Shammari, who is accused of insulting Islam.
Suad is a cofounder of the Saudi Liberal Network with Raef Badawi.
She was arrested in the Red Sea city of Jeddah "after being questioned about some of her tweets, which were deemed to have insulted Islam and endangered public order," said RSF.
In September, a Saudi court upheld a sentence of 10 years in prison and 1,000 lashes for Badawi, also for insulting Islam.
"We condemn the Saudi government's repressive policies towards dissidents who are increasingly using the Internet," RSF deputy programme director Virginie Dangles said.
The watchdog urged authorities to "reverse these decisions, to release all the netizens and human rights activists who are being denied their right to freedom of expression and information, and to abandon all judicial proceedings against them."
In February, RSF said that Gulf monarchies, fearful of unrest, have stepped up efforts to monitor and control the media, particularly online.
Saudi Arabia is on the group's "Enemies of the Internet" list.
London-based watchdog Amnesty International said last month that Saudi authorities "have sought to stamp out all critical voices demanding peaceful reform".

Load more