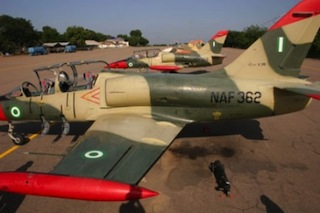 A Nigerian air force helicopter burst into flames midair and crashed near Modibo Adama University of Technology in Yola, Adamawa state, witnesses and the military said on Friday.
The crash — the second to down a military chopper in a week — occurred late Thursday, and initially sparked fears that Nigeria's feared Boko Haram insurgency was mounting an attack.
There was no immediate information on casualties.
"A chopper belonging to the Nigeria Air Force crashed last night (Thursday) in Yola. But we don't have details," air force spokesman Air Commodore Dele Alonge said.
Witnesses said the aircraft was thought to be carrying weapons to troops fighting Boko Haram.
"Two military helicopters flew over the campus and one of them came down close to the fence near the student hostels," said Kyari Mohammed, a lecturer at the Modibbo Adama University of Science and Technology.
"The crash was followed by series of intermittent explosions inside the chopper, which people believe to be from weapons the chopper was ferrying."
He said he called the airport, which told him one of the military's helicopters had crashed.
The explosions caused panic among students, who thought Boko Haram insurgents were on the prowl in the city, which has been repeatedly attacked by the group.
"Suddenly, we heard a huge thundering sound which made us to rush out of the hostels, thinking the school was under Boko Haram attack," said Harisu Abdulaziz, a student.
Another student who was in the hostel at the time said it caused chaos and soldiers guarding the gates prevented anyone from fleeing.
The city's university has been under military protection to stop Boko Haram attacks after a spate of school attacks by the Islamist group in the region.
Thursday's incident came just three days after another military chopper on a training mission crash-landed near Yola airport.
Nigeria's military has suffered a series of air crashes in the northeast since a state of emergency was imposed in the Adamawa region, of which Yola is tha capital, and two neighbouring states in May last year.
Boko Haram has claimed to have shot down a number of aircraft, including a Nigerian air force jet that went missing in September, again out of Yola. The military denies the assertion.

Load more