Daniels Ekugo
Evangelist Tope Alabi's sing-alike, Princess Ifemide Akinboni has debunked the rumours that the late Prophet Elijah Iretiola Ajanaku of Christ Revival Victory Chapel International, Ayobo, Ipaja, Lagos, dated her as a singer and member of his church.
"People usually come up with stories that are not true. Pastor Ajanaku was a clean father to the core. He was never a party to any dirtiness. He was strictly a father. He had no dirty relationship whatsoever with me. The relationship with us was the father-daughter relationship," she said.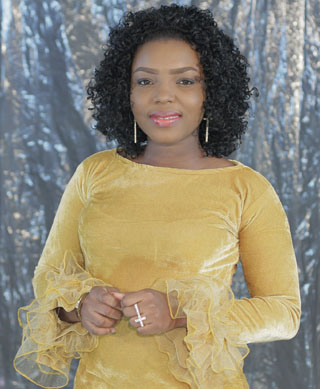 Ifemide also denied that  Ajanaku used her to replace Evang. Tope Alabi who used to sing-praise him.
"That's not true. People have their ways of structuring story as if it happened in their presence. What Pastor Ajanaku told me when he discovered my talent was: 'I have several children, be where you are and function well.'  He never used me but he loved my music."
When asked to explain the motive behind the album title Ifemi Si Olorun Ajanaku, Princess Ifemide, who is in her 20s, said:  "We hear people say 'Olorun  Adeboye, Olorun Babalola' and so on. So, if I say Olorun Ajanaku, it is only in the same context. I say Olorun Ajanaku because I knew God through him, after my encounter with him on 31 December, 2012."
Princess Ifemide, whose voice has been likened to that of ace gospel artiste, Tope Alabi, further said: "Initially, whenever I saw him on TV, I was always perplexed. I kept wondering why a man of God would be bleaching; he looked scary. But I later found out that he was only hairy. He was truly called by God and was very transparent.
"When I refer to him as Orisa, people always take me up on it.  It took me a lot of time to explain to people that when you say Orisa, it means somebody who can take you to where you didn't think you can get to in life.
"Before his body slept, I knew him for just six months. I happened to be the last born of the family. But he gave me so much transparency about himself, which explains the strength I had during the controversy surrounding his death and eventual burial. Most of my compositions are from the Bible, his messages and his personality. I am not saying he was a saint, but he was a clean man of God to the core. They say the Ogboni took his head, but everybody saw the head on July 17, when he was buried. His body was intact.  That was my strength to know that someday the truth will be unveiled."
Ifemide further declared "I will miss his fatherly role, he still lives in me. My album is part of his project for me to still be heard. I will also miss his advice, his jokes, his comedy, the way he criticized me, the way he walked and everything about him."

Load more