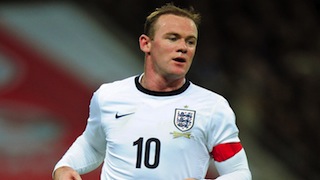 England captain Wayne Rooney has revealed that he considered turning his back on football at the age of 14 after becoming disillusioned with the game.
The 29-year-old is due to make his 100th international appearance in a Euro 2016 qualifier at home to Slovenia on Saturday, when he will be presented with a commemorative cap by England great Bobby Charlton.
But on the eve of the game, the Manchester United star revealed that had it not been for Colin Harvey, a youth coach at his former club Everton, his football career might have been snuffed out before it had even begun.
"I think for me, Colin Harvey was a massive help because when I was about 14, I really stopped enjoying playing football," Rooney told journalists in a pre-match briefing.
"At that age you just want to go and play football. And then around about that age, you start getting told what different things to do on the pitch, you're learning the tactics of the game.
"I felt at that moment that I just wanted to go and enjoy it. I felt that it was too much and I remember going home and telling my dad that I didn't want to go anymore.
"My dad was upset with me over it. And then I went in to see Colin Harvey and he was great for me.
"He sat me down and made me fall back in love with it. From that moment on, that's when I said to myself, 'This is what I want to be doing.'
"At that time I was doing boxing as well as football, but that's when I stopped going to boxing and focused solely on football. Thankfully it was the right decision."
Asked what he would be doing now if he had not become a footballer, Rooney replied: "I've never thought of it. I suppose I just have to look at what my friends are doing.
"Some of them are doing landscaping. Some of them are builders. I don't know."
– World Cup ambition –
Two years later, Rooney made his Everton debut and at the age of 17, he was awarded his first senior England cap in a 3-1 friendly defeat by Australia at Upton Park in February 2003.
Rooney was one of 11 substitutes sent on by then-manager Sven-Goran Eriksson and in a quirk of fate, he was joined by Francis Jeffers, who grew up in the same Croxteth neighbourhood of Liverpool and also began his career at Everton.
"It was 11 changes at half-time and I came on," Rooney recalled.
"It was great with Franny Jeffers. We both came on together. Being from the same area, the same school, we put some coaches on for the school to take all the kids down to watch the game.
"It was a great moment for Croxteth, where we are both from, and then to make my England debut at 17 was something I never believed I would do at such a young age."
By his own admission, Rooney has failed to make his mark at a major tournament since exploding onto the scene at Euro 2004, but he still harbours ambitions of playing on until the 2018 World Cup in Russia.
"You have to be realistic and think there's a chance that I might not go to that World Cup," he said.
"It's something I would love to go and do again for England. You never know. The Euros (in 2016) could be my last one. It certainly won't be me saying it's my last one.
"If I get picked to go to the World Cup, I would be more than happy to do that."

Load more