Abiodun Onafuye/Abeokuta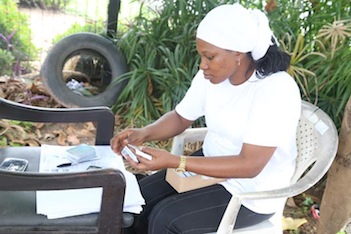 No fewer than 10 persons were seriously injured on Friday at Oke-Efon area of Abeokuta, the Ogun state capital as suspected thugs attacked the centre of the ongoing Continuous Voter Registration exercise in the area.
Our correspondent gathered that the suspected thugs stormed the area at about 10:00 a.m. with guns, cutlasses, charms, cudgel, broken bottles and other weapons.
The incident occurred at the CVR centre located at St. Mary African Church Primary School, Oke-Efon, Abeokuta, where they allegedly attacked residents who were on the queue and were being attended to by the officials of the Independent National Electoral Commission (INEC).
It was reported that the INEC officials and a policewoman attached to the centre immediately took to their heels during the melee to escape attack.
The violence caused pandemonium around the area leading residents and shop owners around the area to hurriedly shut their doors, even motorists scampered for their safety, while many others abandoned their vehicles and fled.
The thugs also allegedly dispossessed residents caught in the violence of their mobile phones and cash while the violence lasted.
The crisis led to a forcible suspension of the exercise in the area, with the officials vowing never to return to the area.
An eyewitness who pleaded anonymity told our correspondent that the thugs that invaded the polling centres was led by one man simply identified as Jamiu.
Jamiu was said to be a member of the Articulated Motorcycle Owners and Riders Association (AMORAN).
PM News gathered from some residents in the area that the suspected thugs that disrupted the exercise in the area must have acted on the order of a particular political party in the area (names withheld), which feared it was losing out in the ongoing CVR exercise to another political party.
When our correspondent visited the area Saturday morning, tension was still high among apprehensive residents who feared that the suspected thugs might return to unleash more terror on them.
Some of the youths in the area were seen holding sticks, broken bottles and other missiles and blocked the major Oke-Efon-Saje-Adatan road in protest of the Friday incident.
The youths blockage caused a serious gridlock along the area which made many vehicles to make use of alternative routes to avoid the traffic jam.
Our correspondent later met two of the injured persons, Gafar Owolabi and Ahmed Oyedele, who stated that the thugs caught them unaware as they were quietly on the queue before the attack.
Attempts by our correspondent to speak with the fleeing INEC registration officials were futile as they declined to comment, though, they were sighted in one of the classrooms of the school with intention of continuing the exercise.
Efforts to get the State Chairman of AMORAN, Alhaji Adio Aminu to react to allegations that one of his members led the thugs that attacked the area proved abortive as he did not pick his calls or reply messages sent to his phone.
Load more