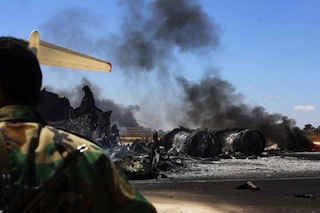 At least 340 people have been killed in fighting for Libya's second city Benghazi since the launch of a government-backed offensive against Islamist militias a month ago, medical sources said Saturday.
More than 200 of the dead have been soldiers — either members of the regular army or loyalists of controversial retired general Khalifa Haftar, the Red Crescent and hospital sources said.
But civilians are also among the casualties, caught up in the crossfire as troops battle to wrest the eastern city back from the militias that seized it in July.
All of Libya's three big cities — the capital Tripoli, third city Misrata and Benghazi — are largely under the control of Islamist-led militias.
In Benghazi, one of them — Ansar al-Sharia — is blacklisted by Washington as a terror group for its alleged role in a deadly 2012 attack on the US consulate.
Three years after dictator Moamer Kadhafi was toppled and killed in a NATO-backed revolt, Libya is awash with weapons and powerful militias, and run by rival governments and parliaments.
The internationally recognised government has set up base in the remote eastern town of Shahat and large swathes of the North African nation are beyond its control.
Load more