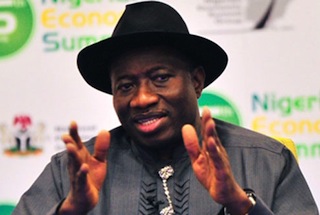 President Goodluck Jonathan on Saturday said the Federal Government was determined to liberate all territories occupied by Boko Haram insurgents in the North-East.
Jonathan gave the assurance at the launch of the Presidential Initiative for the North-East (PINE) in Maiduguri.
Represented by Alhaji Mohammed Wakil, the Minister of State for Power, Jonathan said government was in the process of deploying more troops and resources to ensure quick liberation of the occupied territories.
He said government would unveil a Marshal Plan for the rehabilitation, reconstruction and redevelopment of the area soon after the insurgents had been dislodged.
The President added that government had introduced numerous intervention programmes to alleviate the sufferings of the people affected by the insurgency.
He named some of them to include the Presidential Initiative for the North-East headed by the National Security Adviser, Sambo Dasuki, and the Presidential Committee on Distribution of Relief Materials headed by NEMA Director-General, Malam Sani Sid.
Others are the Victims Support Fund chaired by former Defence Minister, Lt.- Gen. Theophilus Danjuma, and the Safe School Initiative coordinated by the Minister of the Finance, Dr Ngozi Okonjo-Iweala.
The Minister of Science and Technology, Dr Abdul Bulama, who attended the PINE launch, lamented the magnitude of destruction meted out to residents by the insurgents in the North-East.
He said "the Federal Government has for long realised that boots and guns alone cannot solve the problems in the North-East.
"The underlying factors causing the insurgency to thrive must ultimately be addressed holistically so as to stem the possibility of re-occurrence."
Load more