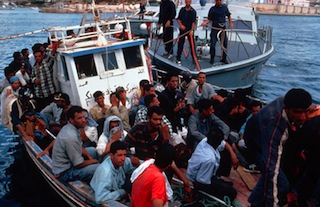 Italian authorities said Saturday that more than 900 people had been rescued at sea in 24 hours, in a blow to hopes that the approach of winter would stem the flow of migrants attempting perilous crossings of the Mediterranean.
Most of the rescued people were initially aboard boats which had got into distress in open waters in the channel between Libya and Sicily, a narrow but treacherous strait in which thousands have drowned in recent years while trying to reach Europe.
A total of 477 migrants were delivered to Porto Empedocle on Sicily's southern coast after being picked up by a liquid gas tanker, the Gaz Concord, overnight, and a further 354 were due to be brought ashore by an Italian navy patrol boat at nearby Pozzallo later in the day.
The coastguard also intercepted a yacht with 80 would-be migrants on board off the port of Crotone on the southeastern "heel" of the Italian mainland.
The overcrowded leisure vessel had spent six days sailing from Turkey, was travelling under a fake Italian ensign and had children on board, four of whom were hospitalised after disembarking.
Police arrested the skipper on suspicion of people smuggling.
The interception of the yacht follows the November 3 sinking in the Black Sea of an overcrowded leisure cruiser that had left Turkey bound for Romania.
At least 24 of the 43 people on board that 13-person boat died, adding to the total of more than 3,300 people who have, according to refugee bodies, died this year in bids to reach Europe's southern shores.
Load more