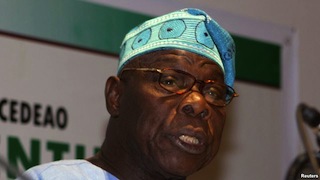 Former Nigerian President, Chief Olusegun Obasanjo, on Saturday called for improved funding of universities to enhance delivery of quality education in the country.
Obasanjo made the call at the maiden matriculation students at the Jigawa State University, Kafin-Hausa.
He said that adequate funding of universities was imperative in order to enhance teaching and research in them for the benefit of the nation.
According to him, teaching and research are critical to university education, hence the need for adequate funding of our tertiary institutions.
Obasanjo, who was invested as pioneer Chancellor of the university at the ceremony, advised universities in the country to offer courses that had direct relevance to the society.
"It is imperative for the government to fund the universities to enable them stand on their own.
"Education is the instrument of molding the youth. It control restiveness and provides opportunities to the youth.
"The future of any nation is dependent on the youth and the youth should make their impact felt by displaying their talents for the development of the society," he said.
He charged the students to be of good character and dedicate themselves to studies.
On his investiture, the former president assured that he would strive to take the university to the next level.
"I want to promise that we will not be found wanting; we shall all march forward to achieve the goals of establishing the university in the state," he stated.
Earlier, the state governor and Visitor to the school, Alhaji Sule Lamido, said his administration established the institution to expand access of indigenes of the state to university education.
Lamido pledged to support the university to enhance its operations.
NAN reports that no fewer than 774 students, all pioneers, were involved in the matriculation.
Load more