At least 10 people were killed and some 60 others wounded Sunday when a female suicide bomber blew herself up at a busy mobile phone market in restive northeast Nigeria, a hospital source said.
The attack in the town of Azare in Bauchi state came just as vendors were packing up for the day and is the latest in a recent wave of suicide attacks.
No one has yet claimed responsibility for the blast, but similar bombings have been carried out in the region by the Islamist militants of Boko Haram who are waging an insurgency against the government.
Residents said the suicide bomber entered the market around at 5:50 pm local time (1650 GMT) accompanied by two men, one of whom was killed by an angry mob after the deadly blast.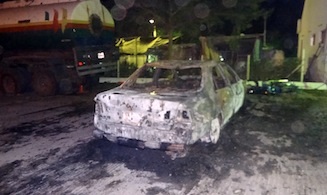 "The two men tried to flee but they were pursued and apprehended. One of them was lynched to death whereas the other is now in custody," a witness, Alyu Habib, told AFP.
He said he saw at least eight dead people after the explosion, while a worker at the federal hospital of Azare, which is treating the victims, said at least 10 people were killed and around 60 wounded.
Another witness confirmed that one of the two men spotted entering the market with the woman "was killed by the angry mob". He said the "explosion set the shops on fire" and firefighters were working to douse the inferno.
The attack near Azare's stadium is the third bombing in the town in recent weeks.
Last week, a bomb concealed in a bag went off near a cash dispensing machine, killing several people. On October 23, a bombing near a bus station killed at least five people.
Load more