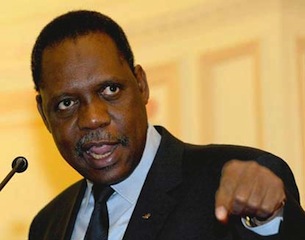 The unexpected arrival of the Africa Cup of Nations in less than two months time in Equatorial Guinea has caused concern over Ebola in the oil-rich former Spanish colony.
Equatorial Guinea, who co-hosted the continental showcase with neighbours Gabon in 2012, stepped in at the eleventh hour on Friday to save the crisis-hit 2015 Nations Cup.
Organisers CAF had been left frantically searching for a new home for the competition after stripping Morocco of the right to host the biennial footballing feast.
Equatorial Guinea, the west African state with a population of 740,000, now has just 62 days to prepare for the January 17 kick-off.
For Alfredo Okenvo, a civic leader in Bata, the country's second city, agreeing to host the Nations Cup raises serious concerns.
"I don't think it's responsible to stage the Nations Cup in this short space of time, we shouldn't have agreed to hold it," Okenvo told AFP by telephone.
"There should have been a little more caution," he added.
"I strongly question the capacity of the country to organise it, and of course then there's Ebola."
Morocco fell foul of CAF after insisting on a postponement due to the current Ebola epidemic which has killed over 5,000 people.
Okenvo reflected: "The decision taken by Morocco, who have superior footballing and health infrastructure than us, was prudent and responsable.
"Whilst it's true Equatorial Guinea has already held the competition, I'm concerned about medical expertise."
For Brigida Bidang, a young nurse, the 16-team championships' imminent arrival on her doorstep is bad news.
"I don't agree with it," said the mother of two.
"The Nations Cup attracts a huge crowd and we still have Ebola, I've got children and family."
Agustin Masoko Abegue, spokesman for one of the opposition parties, attacked what he labelled "a decision taken in haste".
"Morocco has seen the consequences, we shouldn't have accepted to host this Nations Cup…" he said.
In contrast, Agnes Esidang, a bar owner in the capital Malabo, was rubbing his hands in anticipation at an upturn in business.
"Having the Nations Cup here is great news," he said.
"It'll mean there will be supporters coming, and those of us who have bars will have lots of customers," he enthused.
The stance of a government led with an iron-fist by
president Teodoro Obiang and constantly in the line of fire from human rights organisations was however warmly applauded by Souleymane Anta Ndiaye, president of the Forum for the Rebirth of Africa.
"I salute president Teodoro Obiang's decision to host the Nations Cup," said Ndiaye.
"The CAF found themselves in a delicate situation after Morocco's withdrawal.
"I'm delighted at Equatorial Guinea's decision, and I congratulate and encourage the president for continuing the spirit of African solidarity…"
Equatorial Guinea, originally eliminated in the first qualifying round for having fielded an ineligible player, have now qualified for the tournament as hosts, taking Morocco's place.
Four grounds have been set aside for matches, in Malabo, Bata, Mongomo and Edediyin.
Load more