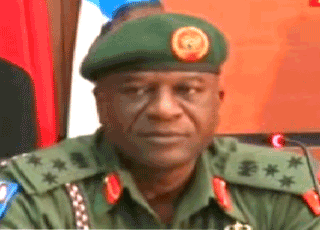 The Nigerian army said Sunday it had recaptured the northeastern town of Chibok, where Islamic militants abducted more than 200 schoolgirls in April, provoking a wave of global outrage.
But the glory for the victory is shared between the Nigerian military and the local vigilante group, known as Civilian Joint Task Force, according to testimony by the people of the town, who said the local forces were left by the military to confront the Boko Haram militants inside, while Nigerian soldiers stayed at the periphery of the town on the lookout for Boko Haram militants, staging an escape.
Spokesman of the army General Olajide Olaleye told AFP in a text message that the town has been recaptured.
"Mopping up ops ongoing. (The) town is now secured," he said.
But a Chibok elder Pogu Bitrus told AFP that Chibok was recaptured with the local vigilante fighting inside the town, while Nigerian soldiers "stayed outside the town to mop up the insurgents trying to escape".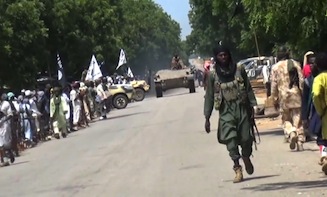 The local vigilantes known as the Civilian Joint Task Force, have been given support to the military in several parts of the northeast where Boko Haram is active. They also helped to flush out Boko Haram from Mubi, in Adamawa state.
Boko Haram fighters captured Chibok on Thursday after a battle lasting several hours that local officials said left many victims among both the insurgents and the local militias.
Several residents said the army had fled the assault, leaving the vigilantes to fight on their own against Boko Haram.
There was no immediate information about any casualties from Saturday's battle for the town, which witnesses say is virtually empty of residents.
Chibok, in the northeast Borno state, has been under a global media spotlight since Boko Haram kidnapped 276 schoolgirls there in April, most of whom are still being held.
The Islamists stormed the Government Girls Secondary School in Chibok on the evening of April 14 and forced the students onto trucks in a mass abduction that brought unprecedented attention to Boko Haram's insurgency.
Fifty-seven managed to escape.
After capturing Chibok on Thursday, Boko Haram militants torched its churches, although most of the town was already mostly in ruins after the April attack. The local police station and government offices were never rebuilt.
Neighbouring villages were also set ablaze during Thursday's battle.
Despite its sparse resources, the Civilian Joint Task Force appears to have become a substitute for the army in many areas of the restive northeast of Nigeria.
Load more