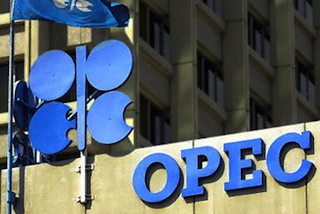 OPEC will keep its production ceiling steady at its "toughest ever" meeting this month, a former adviser to oil kingpin Saudi Arabia said as global crude prices hit a four-year low.
The 12-nation OPEC cartel, including the world's biggest crude producer Saudi Arabia, will meet on November 27 in Vienna.
Mohammed Suroor al-Sabban, who until last year was chief adviser to the kingdom's petroleum ministry, said the cartel's talks will be "the toughest OPEC meeting ever as some OPEC ministers had not anticipated prices would drop to this level, and so quickly."
He said he expected OPEC members to stick with the current output ceiling.
"In my personal opinion, the next meeting will confirm the current production ceiling… at 30 million barrels a day and OPEC will adhere to that in the coming period," he told businessmen in the Saudi Red Sea city of Jeddah late Saturday.
OPEC nations currently produce around 600,000 barrels of oil a day over the output ceiling.
In early November, Riyadh sent global oil prices tumbling when it cut its price for crude on the US market while raising it for Asia, the country's major outlet.
Analysts said that the kingdom wanted to strengthen its market share in the United States against a flood of oil being extracted there from shale rock, which had helped to create a global supply glut and lowered prices.
Oil rebounded slightly on Friday, with the US benchmark West Texas Intermediate for December delivery rising to $75.82 a barrel. Brent North Sea crude for delivery in January advanced to $79.41 in London.

Load more