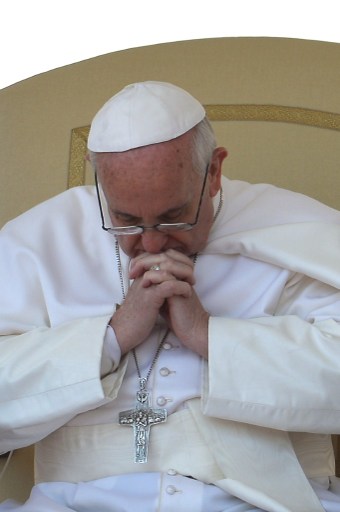 Pope Francis weighed into Italy's immigration crisis on Sunday, warning the country it faced a "social emergency", as the influx of asylum seekers blamed for mob violence on the streets of Rome accelerated again.
Using his weekly address to the crowd in St Peter's square to comment on last week's mob attacks on a refugee centre in Rome last week, the pope warned that the tensions would only get worse without action to foster dialogue.
His warning came as authorities in southern Italy were preparing to process more than 2,200 would-be immigrants picked up from boats off the country's southern coastlines between Friday evening and Sunday afternoon.
The return to such high numbers of migrants arriving on overcrowded boats crewed by people smugglers was a blow to hopes that the flow would ease off with the approach of winter and in the aftermath of Italy's decision to end its naval search-and-rescue operation Mare Nostrum from November 1.
Mare Nostrum ensured that 150,000 people who might otherwise have perished at sea were brought safely ashore between October 2013 and the end of last month.
The mission won Italy praise from humanitarian organisations. But other EU governments complained that it was only encouraging migrants from Africa, the Middle East and South Asia to attempt the journey. They also refused to help finance it, triggering Italy's decision to end the mission.
Local authorities in many parts of the country are now struggling to cope with the large increase in the volume of asylum seekers they have to feed and lodge while their applications for refugee status are being processed.
This has bred resentment in neighbourhoods like Rome's Tor Sapienza, which last week saw some of the worst scenes of anti-immigrant violence witnessed in Europe for years.
A building housing around 50 migrants was pelted with stones, flares and other missiles for three consecutive nights.
Windows were smashed, rubbish bins set ablaze and there were pitched battles with riot police that became sufficiently serious for the city authorities to order the removal of teenagers from the centre.
There was also some evidence of the local protest being hijacked by far right groups with references to "Il Duce" – as Italy's former dictator Benito Mussolini styled himself — featuring alongside overtly racist and anti-Islamic chants and banners.
– A Social Emergency –
Pope Francis urged Italian authorities to join Church officials in working to calm tensions in the troubled district.
"These are things that can happen in different European cities, particularly in peripheral neighbourhoods already suffering from other problems," the pope said.
"I call on the authorities, at every level, to address what now constitutes a social emergency which, if not dealt with soon in an adequate manner, risks degenerating further."
The Argentinian pontiff, who regularly speaks out on social issues, added: "It is possible to have dialogue, listen to each other and plan together, and in this way overcome suspicion and prejudice and build safe, peaceful and inclusive co-existence."
Such sentiments would have cut little ice with Tor Sapienza resident Tiziana Teti, 40, who told AFP her neighbourhood could not cope with the new arrivals.
"I know they are fleeing from war but is it up to us to look after them?" she said. "There are too many of them.
"At school I pay for everything, even the toilet paper. They pay nothing."
As immigration has moved up the political agenda, the far-right Northern League has enjoyed a revival and it has sought to make capital from the Tor Sapienza unrest.
League senator Roberto Calderoli said Sunday that looking after asylum applicants was costing Italy 660 million euros a year.
"(Prime Minister Matteo) Renzi should examine his conscience then hang his head in shame," Calderoli said.
Load more