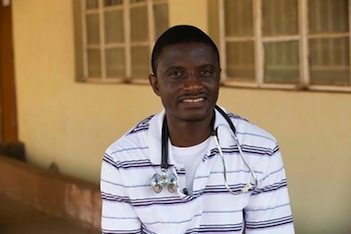 A doctor receiving care United States after falling ill with Ebola in his native Sierra Leone remains in "extremely critical" condition, the hospital treating him said Sunday.
Martin Salia, a US resident who was infected with the deadly hemorrhagic fever while treating patients in his home country, was flown to Omaha, Nebraska on Saturday for treatment.
The University of Nebraska Medical Center, where Salia is being held in isolation to prevent any possible infection, tweeted that he was "still extremely critical."
"Maximum supportive care and every available treatment option being used to save his life," it added.
The UNMC is one of a handful of medical facilities in the United States specially designated to treat Ebola patients.
Salia is the third Ebola patient to be treated there — the previous two survived.
Of the nine Ebola patients treated in the United States before Salia's arrival, only one has died: Liberian Thomas Eric Duncan.
In sharp contrast, the disease has proved deadly in an estimated 70 per cent of cases in west Africa, killing more than 5,100 people since December, most in hardest-hit Guinea, Liberia and Sierra Leone.
Load more