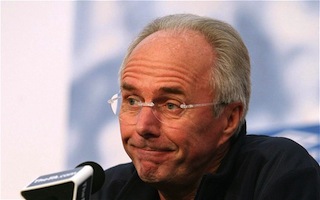 Former England manager Sven-Goran Eriksson is poised to land his second big-money contract in the Chinese Super League (CSL) after leaving Guangzhou R&F following just one full season, reports said Monday.
The Swede is being hotly tipped to join Shanghai East Asia where his coaching team will more than double their current salaries, Sina Sports website said.
The move follows a 15-month spell in Guangzhou where he was reportedly earning up to $3million a year.
The highly ambitious Shanghai club — which has no connection with Shanghai Shenhua, the team that drew Chelsea's Didier Drogba to China — will spend 500 million yuan ($82 million) on developing their side next season, the report added, without saying whether Eriksson will have full control over the funds.
The 66-year-old left his position as manager of Guangzhou by mutual agreement last week after taking the team to third in the CSL, the club said.
"Shanghai East Asia will publically announce on the 18th (Tuesday) that Eriksson has been installed," Sina Sports said Monday.
Eriksson joined Guangzhou in June last year on an 18-month contract which reports in China and Europe said was worth up to $3million a year.
The appointment saw him face off in derby games in the football-mad southern Chinese city with former Italy manager Marcello Lippi, a World Cup winner who led cash-rich Guangzhou Evergrande to their fourth successive Chinese title this year.
After the eight-month Chinese season concluded two weeks ago, Lippi announced he would step aside for his World Cup-winning Azzurri captain Fabio Cannavaro to take charge of the hugely-successful club.
Shanghai East Asia finished fifth this season, and the Sina Sports report said: "In the new 2015 season, there will be a budget of 500 million yuan ($82 million) to build Shanghai into a power that can compete with Evergrande."
The portal also cited a "source close to the matter" as saying: "Since leaving Guangzhou, Eriksson did not fly to England to have a vacation, he flew directly to Shanghai and is awaiting the news conference that will announce him as coach."
Guangzhou R&F were 13th in the 16-team CSL when Eriksson took over. They finished sixth in 2013 and clinched a place in the AFC Champions League with a third-place finish this season.
The CSL is currently the highest attended football league in Asia, and is slowly emerging from years of match-fixing scandals which tarnished the image of the sport in China.
Load more