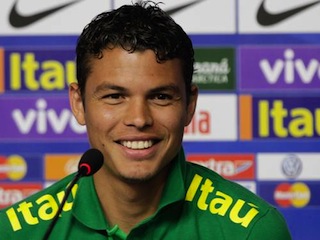 Ex-Brazil captain Thiago Silva on Monday revealed he has made peace with current skipper Neymar and national coach Dunga, a day after expressing his dismay at being stripped of the armband.
Silva lost the captaincy after hosts Brazil's World Cup campaign, which included a humiliating 7-1 loss to Germany in the semi-finals before falling 3-0 in the third-place playoff against the Netherlands.
Paris Saint-German defender Silva had reportedly said that he had been "upset" to lose the captain's armband to Neymar without any explanation.
"It wasn't up to me to approach the matter first," said Silva, who missed the first two call-ups to Dunga's squad since the World Cup because of injury.
"He (Neymar) didn't come to talk to me. Nobody talked to me about it. It happened without explanation. That's what upset me."
However, Silva, 30, insisted that his comments had been taken out of context and that he has since made peace with Neymar and Dunga ahead of Tuesday's friendly against Austria.
"I consider Neymar like a brother and that's not going to change because of an armband," Silva told reporters.
Neymar had expressed his "surprise by the comments" of his teammate.
"I told him along with all the players that we have to be careful what we say," said the Barcelona forward.
Related News
"He (Silva) phoned me to discuss things and its not going to call our friendship into question."
Neymar continued: "I told him that I didn't have to comment on that while I'm now the captain.
"I don't have to talk about it. It's a question of hierarchy like in a club. Everything is resolved now. For me to be captain is not a goal in itself. I don't want to be it (captain) at any price.
"But now that I've been chosen, I'll try to carry out this responsibility in the best possible way."
Silva added he had had a "good conversation" with Neymar.
"He's like my brother. I have great affection for him. I'm a sincere guy. I told him what I thought and it does not affect my friendship," he explained.
The Brazilian defender added that he also had an "eye to eye" conversation with Dunga before training on Monday morning.
"I was concerned because I didn't know how he had interpreted my words which had been twisted and I wanted to clarify things," explained Silva.
"He accepted my explanation. It took a weight off my shoulders. Everything is back to normal between us," added Silva.