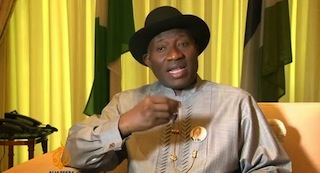 Nigeria's government will seek to extend emergency rule in the restive northeast for six more months, the justice minister said Monday, meaning the extraordinary measures will likely be in force for February polls.
President Goodluck Jonathan first declared a state of emergency in Adamawa, Borno and Yobe states in May last year, saying the military temporarily needed enhanced powers to crush Boko Haram's Islamist uprising.
Lawmakers gave swift approval to two previous extension requests — in November 2013 and May of this year — despite mounting evidence that the measures had done nothing to ease the crisis.
"We just reviewed the state of emergency declared in three states and the government will be requesting the national assembly to grant the extension," Justice Minister Mohammed Bello Adoke told reporters after a meeting of the National Defence Council.
Adoke said the extension request will likely be given to lawmakers on Tuesday. It must be approved by a majority in both the lower house and the Senate.
Boko Haram is believed to control roughly two dozen towns in the region and appears to be trying to position itself as a rebel authority in certain areas.
Speaking to AFP last month, the head of Nigeria's election body, Attahiru Jega, said he believed voting would be possible in all but a few areas of the northeast, specifically mentioning parts of Borno.
While the situation is fluid, the crisis has apparently deteriorated in recent weeks, with the Islamists advancing south of Borno and seizing parts of Adamawa.
The main opposition All Progressives Congress (APC) has estimated that the three affected states are home to roughly five million voters, a majority of whom are likely to vote against Jonathan given widespread resentment over the relentless violence.
The APC has warned against mass disenfranchisement in the region, saying it could undermine the integrity of the result nationally.
Separately, experts and officials in the northeast have continued to question the merits of the emergency rule strategy.
Jonathan's critics applauded the move at first, describing it as a sign that he was finally treating the Boko Haram threat with urgency.
But many say that the president has over the past 18 months failed to back up his emergency rule call with sufficient troops and military hardware on the ground, amid reports of the Islamists overrunning soldiers in many areas.
Load more