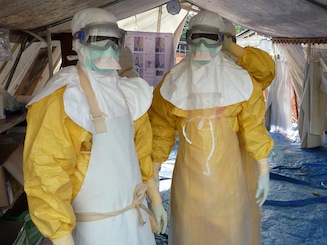 Mali says it has placed more than 440 people who may have been exposed to Ebola under surveillance as it battles to contain the spread of the deadly tropical virus.
The west African nation has been scrambling to prevent an minor outbreak turning into a major crisis after the deaths of a Guinean imam and the Malian nurse who treated him in the capital Bamako.
A friend who had visited the imam in the Pasteur clinic also died of probable Ebola and a two-year-old child died in an unconnected case in the western town of Kayes in October.
"The number of contacts followed by health services amounts to 442. They have all been placed under observation for health control," Samba Sow, of the Ebola emergency operations centre, said in a statement late Sunday.
"The death toll has not changed since November 15, and remains three related to (and including) the Guinean patient's death and one death in Kayes," Sow added.
He said a doctor who contracted the virus at the Pasteur clinic was "being treated by specialised services".
A government official said on Friday two people who died after exposure to the body of the imam were also "highly suspected" of having contracted the virus.
They are not confirmed cases, however, and have not been counted among the officical statistics.
The WHO announced on Friday that the outbreak — almost entirely confined to west Africa — had left 5,177 people dead from around 14,500 cases since Ebola emerged in Guinea in December.
Teams of investigators have been tracing health workers and scouring Bamako and the imam's village of Kouremale, which straddles the Mali-Guinea border, for people who could have been exposed.
Sow said Kayes had not reported any new cases in the last three weeks and was now considered Ebola-free.
The virus is estimated to have killed around 70 percent of its victims across west Africa, often shutting down their organs and causing unstoppable bleeding.
Mali's President Ibrahim Boubacar Keita was due to visit Kouremale on Monday afternoon to look at increased security at the border.
"The government calls for calm and serenity, and for the general mobilisation of the entire population to convey prevention messages and enforce hygiene and sanitation guidelines, which remain essential to prevent this disease," Sow said.

Load more