Cristiano Ronaldo will try to outshine Lionel Messi on his return to Old Trafford when the two best players in the world clash in a friendly between Portugal and Argentina on Tuesday.
Real Madrid forward Ronaldo and Barcelona striker Messi are locked in a battle to prove themselves the top player on the planet and their latest showdown comes on the former home turf of the Portugal icon.
Adding spice to their rivalry with Spain's two superpowers is the speculation that they aren't on good terms off the pitch either.
Whatever the status of their personal relationship, the duo have deservedly become serial trophy collectors over the last decade, with team and individual prizes hoovered up on a regular basis.
Messi has won the Champions League three times and Ronaldo twice, while Messi has six league titles in Spain and Ronaldo three with Manchester United and one with Real.
Between them they have won the past six coveted Ballon D'Or contests, awarded to the player voted the world's best by managers, players and journalists.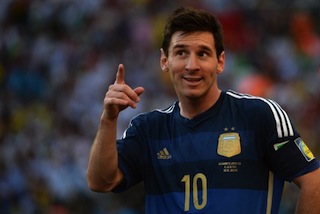 Argentina star Messi has been voted the winner four times in that period and has come second to Ronaldo the other two years.
Ronaldo hopes to add a third gong this year, and few would disagree if he pipped Messi and several contenders from the German World Cup winning team.
Ronaldo has 18 league goals already this season, while Messi has — by his standards — a modest total of seven, although he was voted player of the tournament at this year's World Cup
Also in Ronaldo's favour, he became the record goalscorer in European Championship qualifying and tournament history with his strike in a 1-0 victory over Armenia at the weekend.
That was his 23rd goal in the competition, surpassing the previous high mark set by Jan Dahl Tomasson of Denmark, and his 57th in 117 caps for Portugal.
"I have done what I have to do. I have won major titles, I have beaten other records, and I now have to wait calmly for the votes," he said.
Ronaldo's return to Old Trafford will be his second since he left United for Madrid in 2009.
In March 2013, he scored the goal that knocked his old club out of the Champions League in front of still-adoring United fans.
But poor ticket sales for this week's friendly suggest United supporters aren't quite so keen to pay tribute to their former idol on this occasion.
Ronaldo is still looking forward to the chance to return to Manchester however and he said: "It's special going back to Old Trafford and I hope the stadium will be with me."
There will also be a return to Manchester for former City and United striker Carlos Tevez.
Tevez, now with Juventus, came back into the Argentina squad last week after three years in exile and played in last week's 2-1 friendly win over Croatia at West Ham's Upton Park.
Load more