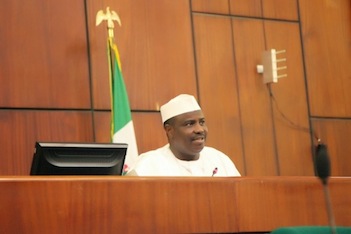 The Speaker of the House of Representatives, Alhaji Aminu Tambuwal on Monday withdrew his suit challenging the withdrawal of his security details by the Inspector-General of Police (IGP), Suleiman Abba.
The IGP had withdrawn the speaker's security aides following his defection from the Peoples Democratic Party (PDP) to the All Progressive Congress (APC).
At the resumed hearing of the case on Monday, Tambuwal's counsel, Mr Tunji Abayomi, brought an application for discontinuance of the suit.
Abayomi informed the court that he was instructed by the speaker to make the withdrawal.
Mr Ade Okeaya-Inneh, counsel to the IGP and Attorney-General of the Federation (AGF) however opposed the application, and urged the court to dismiss the entire suit and award costs against Tambuwal.
He argued that parties had joined issues in the case by filing counter affidavits and filing replies on the
merits of the suit.
Justice Ahmed Mohammed, in his ruling struck out the suit accordingly.
The judge held that the defence counsel only responded to the preliminary motion for injunction to restrain
the IGP from withdrawing his security details and not the motion on notice.
He, therefore, made no order as to costs.
Tambuwal had argued that the IGP had no constitutional powers to withdraw his security details without the order of a court.
He had also contended that he remained the Speaker of the House of Reps since he had not been impeached by his fellow lawmakers.
Load more