Okafor Ofiebor/Port Harcourt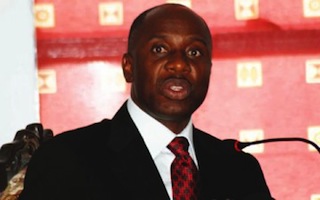 There was pandemonium Monday at the Federal Ocean Terminal, FOT, Onne as youths from Okrika and Ogu communities allegedly loyal to ex-militant leader, Ateke Tom, blocked the multi-billion dollar terminal that also hosts Oil and Gas Free Zone, a suburb of Port Harcourt, the Rivers state capital, southern Nigeria.
Soldiers later dislodged the youths said to be protesting over marginalisation, lack of patronage and employment by the companies operating at the FOT.
An eyewitness said there were sounds of gunshots around the gate of the terminal as well as bonfire made by the youths who were dancing and chanting war songs.
"Workers who prepared to resume work this morning were denied access to the FOT but they have no right to protest in Onne-Eleme soil. They said they want recognition by the management of FOT, what kind of recognition? Is it because they have people in power who protect them and they have arms which we don't have?" she asked.
She lamented that "Okrika-Ogu people since last year sacked Ekporo, which is on Eleme land and occupied the place. They have also taken over part of Alesa-Eleme because they have people in power and we don't have. They should leave the Onne soil and the companies."
A combined team of policemen and soldiers dislodged the protesters at about noon before the situation was brought under control. The area has been secured by soldiers.
Talks that Ateke Tom denied sponsored the protest has however been squashed by the ex-militant.
"I am not aware of the protest. But if they are protesting legitimately for their rights, I don't see anything wrong with that. Does it mean that any time protests are carried out in Okrika, I am aware and I sponsored it? It is a mere allegation," he said.
Okrika is the traditional home of Mrs Patience Jonathan, the wife of President Jonathan, while Senator Thompson Sekibo, the Chairman, Senate Committee on Defence, is from Ogu and represents Rivers East Senatorial District.
In the heat of the crisis the senator denied involvement.
Last year there was a communal clash between Ogu and Ekporo that led to the sacking of Ekporo and the killing of Mr Nelson Igbuji, the Councillor representing Ekporo Ward Five in Eleme Local Government Arera.
Federal Ocean Terminal, FOT is one of the deep sea terminals in Nigeria mainly for import and export and cargo shipping.
Load more