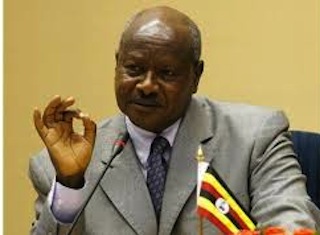 Over a ton of elephant ivory seized from poachers in Uganda and worth over a million dollars has itself been stolen from government strongrooms, reports said Monday.
President Yoweri Museveni has ordered investigation into the ivory stolen from the Uganda Wildlife Authority (UWA) armoury, with staff feared to be working with the very traffickers they are meant to stop to steal and sell on the confiscated tusks, the government-owned New Vision newspaper said.
"We have started the initial investigation," said Ali Munira from the country's top anti-corruption body, the Inspectorate General of Government, according to the newspaper.
The government's UWA has admitted that 1,335 kilogrammes (2,943 pounds) of ivory is missing from supposedly secure stockpiles, which officials estimated to be valued at some 1.1 million dollars (880,000 euros).
"Our intelligence unit staff, while on routine checkup, discovered some irregularities in the management of the store where confiscated ivory is kept," UWA said in a statement.
Investigations have begun "verifying the physical stocks against the records," it added.
Poaching has risen sharply across Africa in recent years fuelled by rising demand in Asia for ivory and rhino horn, coveted as a traditional medicine and a status symbol.
Some corrupt officials are believed to have taken the ivory claiming to use it to ensnare potential traffickers, but then later selling it themselves.
The World Wildlife Fund has identified Uganda as a key transit country for the illegal trade.
The United States ambassador to Uganda last week raised his concern at the missing ivory at a tourist industry summit.
"We hope there will be an investigation and that the culprits will be identified and prosecuted to demonstrate commitment to wildlife protection," Scott DeLisi said.
UWA chief Raymond Engena said the agency "remains committed to the fight again illegal wildlife trade and poaching," and vowed to "punish and prosecute any culprits engaged in illegal trade."
But campaigners said the lost ivory was a deeply worrying sign.
"The question is, if UWA management is involved, then how can we be sure that wildlife in Uganda is in safe hands?" Achilles Byaruhanga, head of the conservation group Nature Uganda, told AFP.
More than 35,000 elephants are killed across Africa every year for their tusks.
Load more