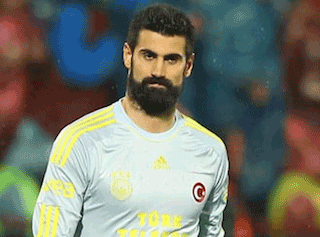 Turkey's struggling national football team was Monday engulfed in fresh turmoil after top goalkeeper Volkan Demirel walked out of a crucial Euro 2016 qualifier due to abuse by Turkish fans.
The bearded Demirel, a controversial figure who divides opinion, was warming up on the pitch Sunday before the qualifier against Kazakhstan when he heard insults directed at him from the stands.
He initially told the fans to be quiet but the abuse continued and Demirel waved then sarcastically, symbolically removed his gloves and marched off the pitch apparently on the verge of tears.
The game was played at the Turk Telekom Arena, the home of Istanbul giants Galatasaray. Demirel plays for their Istanbul arch-rivals Fenerbahce and has long been a hate figure for Galatasaray fans.
Footage of the incident appears to show that the abuse came from supporters dressed in Galatasaray kit.
Turkish media said Demirel then went to national coach Fatih Terim and said he would rather not play in the game.
"Neither my wife nor my children, my family can escape these curses and insults. I'm not in the mood to play in front of those who swear at me so badly. I'd do more harm than good," he was quoted as saying.
Demirel was replaced in the game by reserve goalkeeper Volkan Babacan and Turkey defeated Kazakhstan 3-1.
The victory relieved some pressure on Terim after a 0-4 smashing at the hands of Brazil in a friendly this month starkly showed up the team's deficiencies.
Turkish media said Demirel could, under existing regulations, face a fine or a suspension for his walkout. But Terim said it was too early to rush to conclusions.
"We will talk about what happened together. Whatever I say will sound irrelevant now," he said.
"I need to talk to Volkan and other players first. I don't want to get any false information out there. Volkan was in the changing room and appeared unable to play. He was very upset and left."
Meanwhile, there were violent scuffles outside the stadium as reporters seeking to approach Demirel as he left were beaten by security personnel, Turkish television reported.
Terim's side is already riven by a bitter internal conflict which resulted in potentially its most dangerous performer — Hakan Calhanoglu of Bayer Leverkusen — not playing for the national side.
Load more