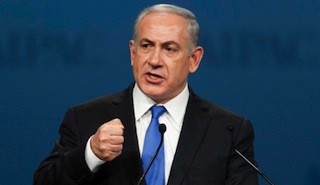 Two Palestinians armed with a gun and axes attacked a Jerusalem synagogue on Tuesday killing four Israelis, police said.
It was the deadliest attack in Jerusalem in years and comes after months of unrest in the annexed eastern sector of the city.
"There are four dead and six injured, among them two policemen," police spokeswoman Luba Samri said in a statement.
The attack began shortly before 7:00 a.m. (0500 GMT) as worshippers were attending morning prayers at a synagogue in the ultra-Orthodox Har Nof neighbourhood on the western outskirts of the city.
The two assailants, who were identified by police as Palestinians from east Jerusalem, were shot dead.
"Two terrorists, apparently from east Jerusalem, entered a yeshiva (Jewish seminary) in Har Nof and attacked worshippers with axes and a pistol," the spokeswoman said.
"The two terrorists were neutralised," she added, using a police euphemism for killed.
A witness, identified only as Zohar, said there was panic at the scene.
"I heard shooting and one of the worshippers came out covered in blood and shouted 'There's a massacre'," he told the radio.
Load more