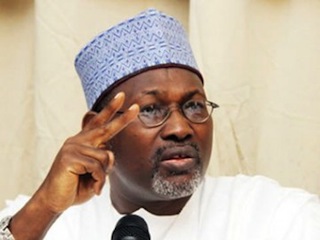 The Independent National Electoral Commission (INEC) said it had taken measures to track campaign expenditure incurred by political parties as it lifted ban on election campaigns.
The electoral body said it will sanction presidential aspirants that spend above N1billion on campaign. The Chief Press Secretary to the INEC chairman, Kayode Idowu, on Monday in Abuja stated this in an interview with journalists following the lifting of the ban on election campaigns.
"According to section 91 of the Electoral Act, 2010 as amended, the maximum expenses to be incurred by a candidate at a presidential election shall be N1 billion; for governorship, it is N200 million and the act also stipulated sanctions for candidate who flaunted the campaign spending limits.
"The sanction for presidential election is N1 million or 12 months imprisonment or both and for governor, N800,000 or nine months or both.
NAN reports that in line with the electoral timetable released by INEC, presidential and National Assembly aspirants of political parties are allowed to commence campaign from November 16.
Similarly, the ban on campaign by governorship and state House of Assembly aspirants is expected to be lifted on November 30.
Idowu said that the commission now had a department to monitor spending of candidates in the 2015 elections.
Idowu said that the department was functional and was in full capacity.
"That structure did not exist in 2011 and we could not do much in that regard. Now we have been able to put structure in place to track expenditure and we are going to be doing that.
"The situation now is that we can only know whether a person has over spent until he or she has spent it. You cannot stop people from spending until the person has spent.
"What the law anticipates is that we have put ceiling on spending and we will now monitor to know whether we can make a case about it."
Idowu stressed the need for political parties to adhere to election expenses as stipulated by the Electoral Act.
"The act also placed a campaign ceiling of N40 million and N20 million for senatorial and House of Representatives candidates respectively.
"It also fixed amount for election expenses in the state assembly and chairmanship election for an area council at N10 million."
"While the sum of N600,000 or six months imprisonment is stipulated for a senatorial candidate, the sum of 500,000 or five months imprisonment is also stipulated for a House of Representatives candidate who defaults on the campaign spending."
Asked if the commission had the capacity to handle the magnitude of electoral offences, Idowu said that INEC could only work within framework of the law.
He said that was why the commission had always called for establishment of election tribunals.
"If the law says INEC should do something even within the constraints, INEC will do what is possible within those constraints.
"INEC will do what it has to do within the framework of the law as it exists at the present. For instance, the law says we should publish the audited yearly accounts of the political parties and that is what we have always done.
"We audit and publish, that is what the law says we should do. After we publish what next?
"There are places where you have offences and you don't have sanctions stated."
Load more