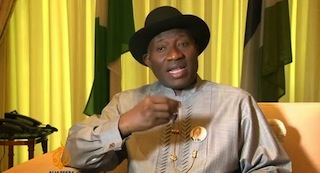 President Goodluck Jonathan on Wednesday said that the gap between the ruling Peoples Democratic Party and other opposition parties in Nigeria is astronomical, boasting that no one can defeat them at next year's polls.
Jonathan spoke when he hosted members of the Presidential Declaration Committee to a luncheon at the Banquet Hall of the Presidential Villa, Abuja.
"I don't intend to say too much, but just to use this unique opportunity to thank you here for all your support, even before the declaration, for me and the vice president and your support for government.
"In the Nigerian political history this is one period that we really have a lot of opposition coming up everyday.
"But for your support probably we couldn't have achieved the little we have achieved.
"No matter the lies people tell – sponsored stories and so on – you've been very solid, you've been very committed and you've been supporting us; we remain grateful.
"I'm yet to see those who will beat PDP. They will continue to make the noise, but they cannot beat us, because the gap between PDP and others is astronomical.
"And the way we do things is different from the way they do things; the way we talk and the way they talk are very different; the way we reason is different from the way they do.
"Our commitment to transforming this country and their thinking about Nigeria are very different.
Load more