Abiodun Onafuye/Abeokuta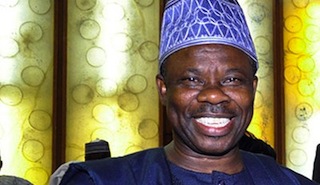 Governor Ibikunle Amosun of Ogun state, Southwest, Nigetia has been described as a thoroughbred politician and a prudent manager of resources, considering his infrastructural development across the state.
The commendation came from a legal luminary and Senior Advocate of Nigeria, SAN, Chief Niyi Akintola, who was the Guest Speaker at a programme organised by the All Progressive Congress, APC, Ogun State chapter in Abeokuta.
According to him, "Politics is a process through which human beings interact to attain or achieve set goals which might bring power authority, economic interest, or any positive policy, programme and agenda geared towards bettering the society at large.
"For those who know me very well, I don't praise of politicians. I commend those who are doing well and condemn those who are not doing what people want. Governor Amosun is a giant philosopher our time, he has cone to write his name boldly on the sand of time. He has turn the face and outlook of this state. No matter what oppositions maybe saying, this man has done well and he is a prudent manager of resources.
"As I speak, almost 23 states are yet to pay salaries because of the dwindling economy and reduction from the federal allocation. The judges have not received their salary, that I know very well. The National Assembly members have not collected their salaries, the money allocated for the security has not been paid.
Related News
"Despite all these abnormalities, Governor Ibikunle Amosun has been trying his best to pay the salaries of the workers and he has within three and half years in office moved Ogun state to the second highest in IGR in the country. He has not disappointed many people as the state is a pacesetter and not Oyo State as many believes.
He noted that: "Sixty per cent of Nigerian leaders are from Ogun state, so the youths of nowadays should remember that you have everything to lose, especially as elections draw near. You must guide against that and don't allow these greedy politicians to use you. We should have learnt from the mistakes of those before us, how many of the past leaders, past governors, ministers, council chairmen, commissioners and others can you remember, except those who do good that can come out and beat their chests that they have done their best," Akintola said.
In his welcome address, the leader of the group, Hon. Sunday Adebowale advised that youth empowerment is an attitudinal, structural and cultural process whereby young people gain the ability, authority and agency to make decisions and implement changes in the lives of other people including youths and adults.
He however commended the transformation and developmental agenda in all sectors across the 20 local government areas of the state, "this has never happened in the history of the state and various programmes put in place to empower both the educated and illiterate youths in the state in order for them to be self employed and self sufficient," Adebowale stated.
Other speakers at the event were the State Commissioner for Housing, Chief Daniel Adejobi, Barr.Bisi Adegbuyi, Rt. Hon.Surajudeen Ishola Adekunbi,Speaker, Ogun State House of Assembly, Sen. Iyabo Anisulowo, Chief Tolu Odebiyi, Senatorial aspirant,Ogun West, Comrade Atir Sulaiman, National President, APC Youth League posited that the present administration in the state under Ibikunle Amosun has performed creditably well, calling on the people to vote for him for continuity of unprecedented achievements.
The programme is attended by youths from all the 20 local government area of the state, student representatives from all the tertiary institutions in the state.