Taiwo Adelu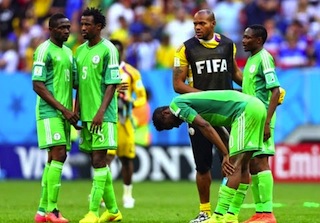 Some Nigerians football who could not comprehend the fact that the Super Eagles won't be at the Africa Cup of Nations in January to defend their title, have taken to the social media to express their anger.
Nigeria will not defend their crown in Equatorial Guinea next year after they drew 2-2 at home to South Africa on Wednesday at the Akwa Ibom International Stadium, Uyo.
Stephen Keshi and his Eagles finished a disappointing third in Group A with eight points, while Congo advanced on 10 points after they won 1-0 in Sudan with a second-half goal by Francis Nganga.
The backlash on Twitter was endless. Fans blamed the players, Stephen Keshi and the Nigeria Football Federation. "Since the '94 loss to Italy, just take everything as it comes from the Super Eagles. Team need serious revamping, new coach, hungrier players," sports analyst @temiokomi tweeted.
@promiseetim25 wants the Eagles to be disbanded. "They really need to be thrashed and flushed out," he tweeted. @chaplinez70 said that despite the presence of some former internationals in Uyo, the Eagles failed to live up to expectation. He tweeted "Kanu, Jay Jay, Celestine, Rufai, Ikpeba, all came to support the Eagles to no avail. SAD!!"
Nigerians did not spare Coach Keshi in their reactions to the failure of his team to qualify for the AFCON. @ELEGBETE1 said that Keshi should have stayed away from the team. "We would have qualified if only #Keshi stayed away from the team after his contract expired but he wanted to use expired Westerhof template."
According to @arlomah, Keshi and the players' failure to attend post match briefing in Uyo was understandable because they have nothing to tell Nigerians. "What have they got to say? Keshi, players snub media." I was expecting Keshi to announce his retirement from football."
"Honestly, I feel Keshi should discontinue interest in the Super Eagles job…#mythoughts," @olywal tweeted.
A furious @guysly2much wants Keshi to thrown in the towel and leave the scene immediately.
"Why was Siasia sacked? He failed to qualify for AFCON 2012, so what will be the excuse for Keshi to stay? Or he won AFCON 2013 abi? Nonsense".
@Jololade foresees Keshi's resignation when he tweeted that "Keshi himself will resign before this week runs out. Let's wait and see"
To @kayodetijani200, "Kenneth Omeruo just went from hero to zero with his appalling, terrible, mediocre performance tonight. "Feel too sorry for him, unfit, match rusty."
@PoojaBlog wants the Nigeria Football Federation, NFF, to take a drastic action to save Nigerian football now as he tweeted, "Dear Amaju Pinnick, as a Nation we should FOCUS more on Development and NOT Competition. Sentiment apart – Super Eagles are so POOR."

Load more