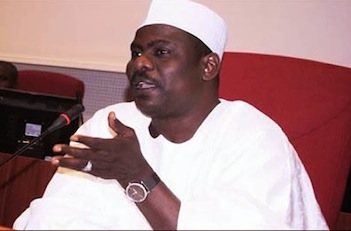 Emergency rule to tackle Boko Haram in northeast Nigeria has been an outright failure, All Progressives Congress (APC) senators from the affected regions said Tuesday, as the government sought to extend the powers.
President Goodluck Jonathan submitted a request to the upper chamber of parliament to grant approval for the special measures in Yobe, Borno and Adamawa states for a further six months — a timeframe that would extend beyond February elections.
The extension was required "to stem the tide of terrorism and insurgency in the affected states", the head of state said in a letter.
Senators debated the request behind closed doors and were due to continue on Wednesday, when a decision would be announced, Senate leader David Mark and spokesman Bello Tukur told reporters.
But members from the affected areas said the measures, first imposed in May 2013, were not working, as Boko Haram violence had intensified to the point where the militants now controlled towns.
Ahmed Lawan, from Yobe, said the request was "a waste of time because we had state of emergency for 18 months and the result, we all know, is failure, failure and failure".
Borno senator Ali Ndume said emergency rule, an increased defence budget and even an emergency $1 billion loan to the armed forces had failed to make an impact.
"Our fear is if we extend the state of emergency, are we going to get into a worse situation than we are now and if we extend the state of emergency, what difference will it make?" he said.
He added: "We gave everything and there is no result."
Bindowo Jibrilla, from Adamawa state, said he had seen his entire constituency taken over by the Islamists and would block the request.
Ndume, Jibrilla and Lawan are all members of the APC, which has criticised Jonathan's record on tackling the five-year insurgency.
The APC has voiced doubts about the integrity of next February's general election, as tens of thousands of people risked being unable to vote because of the violence.
Ndume said holding an election was secondary to securing peace and that he was unable to go back to his constituency because of the insecurity.
"I'm one of those that are highly targeted and the way it's going now, maybe I will not be alive even for the election," Ndume said.

Load more