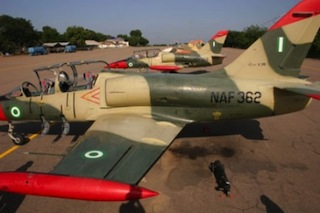 A mysterious aircraft that a popular Nigerian preacher linked to the collapse of a guesthouse at his Lagos megachurch was an air force plane, a coroner's inquest was told on Wednesday.
TB Joshua and officials at his Synagogue Church of All Nations (SCOAN) have suggested the plane, which they claimed was "hovering" above the building, may have caused the tragedy.
A total of 116 people were killed in the September 12 collapse, 81 of them South Africans.
Police investigator Superintendent Olusola Agoi said enquiries, which were still ongoing, had shown that the aircraft was a military plane.
"We have found out that the aircraft belongs to the NAF (Nigerian Air Force) and was said to be on a circuit training mission at the time of the incident," Agoi told the hearing.
"This was confirmed by the NAF," he added.
SCOAN officials released security camera footage of the aircraft and the building collapse in the days after the tragedy to lend weight to their theory of aerial sabotage and an explosion.
But expert witnesses have ruled out a blast and said the plane, which was flying at 1,100 feet (300 metres), was on the flight path to the nearby Lagos airport.
"Based on the distance of the aircraft to the building, it was practically impossible for the aircraft to cause the collapse," Lagos State building inspector Olutoyin Ayinde said on October 30.
Ayinde also told the court that the guesthouse did not have planning permission and that inspections had found that several other structures on the SCOAN site were structurally unsound.
Joshua, a self-styled miracle worker known to his followers as "The Prophet" and who claims he can see the future, has been summonsed to appear before the court to give evidence on Thursday.
He failed to turn up to a previous hearing and has been threatened with arrest if he is again a no-show.
The remains of 74 of the South Africans killed in the collapse were flown home last weekend. They were among 350 of their compatriots at the church at the time.
Load more