Nigeria has made pragmatic moves to curb spending to offset falling global oil prices, analysts said, but blamed corruption for the failure to prevent a budget crisis that many saw coming.
Finance Minister Ngozi Okonjo-Iweala described the recent plunge in price to $79 per barrel of Nigeria's main crude product as "a serious challenge" as oil exports account for 70 per cent of government revenue.
She announced a series of belt-tightening measures at the weekend, including a major cutback in foreign travel for government employees and new taxes on luxury items.
The benchmark oil price that Nigeria uses to plan spending for the 2015 fiscal year will also be cut from $78 to $73 — a budget revision that must be approved by lawmakers.
The head of the Nigeria Economic Summit Group think tank, Frank Nweke, described the moves as "pragmatic" given the severity of the revenue shortfall.
"But this has happened before," he noted, and said the government remained vulnerable to oil market shocks because a failure to cut graft and waste has made it chronically difficult to save for a rainy day.
– Savings account? –
Nigeria, which is Africa's leading economy, in theory sets a modest benchmark oil price each fiscal year to ensure savings.
When prices were higher earlier in the year, any revenue earned above the benchmark $78 per barrel was supposed to be deposited in the country's Excess Crude Account (ECA).
Analysts say the ECA should be well-funded given the relatively strong oil market in recent years. Oil prices have fallen by over a quarter since June, and were still above $100 just two months ago.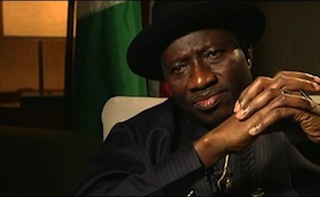 But the government has been repeatedly accused of raiding the account to meet budget shortfalls brought on by corruption.
Documenting graft in Nigeria — Africa's top oil producer which churns out roughly two million barrels of crude per day — is notoriously difficult.
Public finances are often opaque and serious corruption cases are very rarely tested in court.
"The signals for the current situation have been there all along," said Pat Utomi, a professor at the Lagos Business School and a former opposition politician.
"It's just that our government did not take proactive measures."
Utomi, like Nweke, argued that Nigeria had failed to take advantage of ample opportunities to save.
"Nigeria must understand that leakages in the system need to be plugged and that our resources can be used much better," Nweke said.
"This is going to make the country less vulnerable the next time this happens."
Aside from cutting waste, experts say Nigeria needs to crack down on crude-stealing gangs who syphon oil out of pipelines, sometimes with the tacit backing of local politicians and reportedly the security services.
Crude theft is estimated to cost Nigeria at least $6 billion a year.
"We must be prepared to make sacrifices where necessary," Ngozi said as she announced the cutbacks, while stressing that key programmes linked to infrastructure and housing will not be affected.
– Election spending –
Critics warn that President Goodluck Jonathan's administration will be forced to spend lavishly to secure his re-election in February polls.
The ruling Peoples Democratic Party has long been accused of using public money to fund its campaigns.
State governments have already complained about shortfalls in federal allocations.
Some state finance commissioners have said they are struggling to pay salaries and meet other commitments, which, aside from constituting a major failure of governance, would also likely have political consequences.
"Politicians will try to muster enough cash to prosecute their elections," said Utomi, arguing that failure to crack down on wasteful political spending will inevitably make things worse.
Ngozi, who was previously a vice-president at the World Bank, sought to present the crisis as an opportunity.
"Panic is not a strategy," she said, stressing that diversifying the economy away from oil and "reducing waste" must be the focus moving forward.
Observers have heard similar rhetoric before and seen Nigeria resume free spending when oil prices have recovered.
"The last time, when prices went back up, we conducted ourselves as if nothing had happened," said Nweke.
By Joel Olatunde Agoi/AFP

Load more