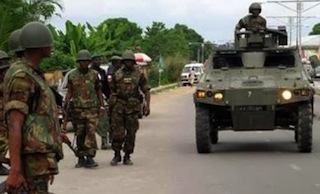 Nigerian military operating in the North-East had taken full control of Gombi, Pelia and Hong communities in Adamawa state.
The communities were overrun by Boko Haram insurgents recently, resulting in the displacement of thousands of people.
According to the Defence Headquarters on Wednesday: "The Nigerian troops in their daring exploit have taken full control of more communities in Adamawa State, including Gombi, Pelia and Hong.
"The ongoing military operations in the North-Eastern Nigeria is to clear all areas infested by terrorists.''
The statement also said that many terrorists were captured while some died during confrontation with the military.
"Weapons and equipment are also being recovered while mopping up exercise is ongoing in the areas'', it added.
The army last week also retook Mubi, the second major town in the state, from the insurgents, with the aid of local hunters and civilian joint task force, a vigilante group.

Load more