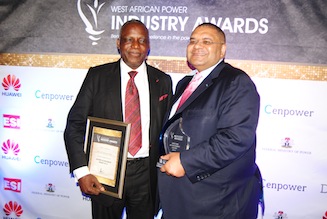 Dr. Ngozi Okonjo-Iweala, Minister of Finance and coordinating Minister for the Economy, Bart Okechukwu Nnaji, former Nigerian Minister of Power and Ughelli Power were some of the big winners at the inaugural West African Power Industry Awards that were announced at the sold-out gala dinner ceremony during the West African Power Industry Convention (WAPIC) on Tuesday evening at the Eko Hotel in Lagos.
The award for Outstanding Woman in Power was presented to Dr. Ngozi Okonjo-Iweala, Prof Nnaji was honoured with the Lifetime Achievement Award while Ughelli Power won for the Power Transaction of the Year.
More than 1000 power professionals are gathered in Lagos this week for the 11th edition of WAPIC where the latest updates on the Nigerian power industry's privatisation and other opportunities in the regional energy sphere were discussed.
WAPIC programme director Irene Ochem said it was a good thing that the utility industry was celebrating its heroes. "Congratulations to all the winners. The judges had a difficult time choosing between all the worthy finalists. It is wonderful to see such inspiring developments that are happening in this region and that Nigeria is taking such a pioneering role. The power sector is not looking back anymore but rather forging ahead and pushing boundaries. This bodes well for the future of the West African region."
Professor Bart Okechukwu Nnaji bagged the Lifetime Achievement Award which is given to an individual for achievements over his/her career which have made an outstanding contribution to and impact on the West African Power Industry, whether from a public or private company or institution.
For her contribution during the past year, Okonjo-Iweala won the Outstanding Woman in Power award. Others winners on the night are: Solar Light Company who won the 'Best Rural Electrification Project'; Quintas for Best Renewable Energy Project and Ughelli Power who won Power Transaction of the Year award.
ABB scooped Excellence in Power Transmission or Distribution award while Seven Energy won Excellence in Power Generation award.
The 11th edition of the week long conference and expo is enjoying overwhelming support from the industry. The global networking and telecommunications giant, Huawei, is the exclusive diamond sponsor for WAPIC. Other leading industry names such as the Nigerian IPP Genesis Electricity Limited (GEL) and Aiteo Power Generation and Distribution Company are the platinum sponsors for the event.
The West African Power Industry Convention is organised by Spintelligent, leading Cape Town-based trade exhibition and conference organiser, and the African office of Clarion Events Ltd, based in the UK.
Load more